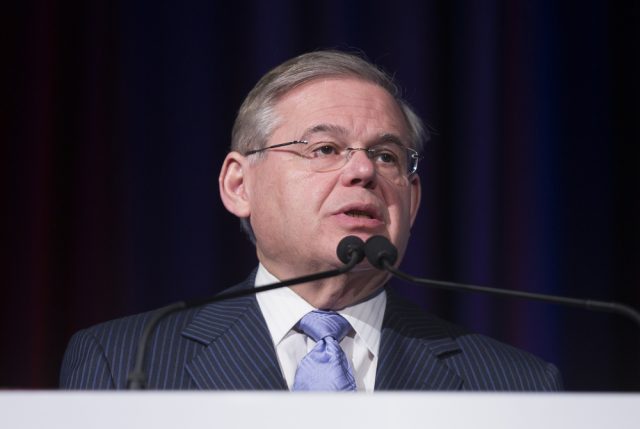 The United States Department of Justice has declined to continue pursuing its case against Senator Robert Menendez (D-New Jersey) and filed a motion to dismiss the remaining charges.
Submitted Wednesday morning, the brief motion announcing DOJ's intent to dismiss reads, in part:
In light of the Court's January 24, 2018 Opinion and Order and pursuant to Federal Rule of Criminal Procedure 48(a), the United States of America moves to dismiss the Superseding Indictment.
The DOJ's decision here comes just one week after U.S. District Court Judge William Walls dismissed seven out of the 18 counts against Menendez and his co-defendant Salomon Melgen.
Menendez was accused of accepting hundreds of thousands of dollars worth of bribes from Melgen, an eye doctor. In turn, Melgen was accused of offering said bribes to Mendendez in exchange for a quick end to a multimillion dollar billing issue–and help with obtaining visas for Melgen's various girlfriends.
The case went to trial last year, but resulted in a mistrial last November when the jury could not reach a unanimous verdict. Earlier this month federal prosecutors claimed they intended to re-try Menendez "at the earliest possible date."
Now it appears that won't be happening after all.
The failure to secure a conviction against Menendez comes in the wake of the recent Supreme Court decision against Robert McDonnell. The former Virginia Governor had initially been convicted in a federal corruption case in 2014 for allegedly receiving gifts in exchange for official acts, only for the Supreme Court to later vacate the conviction.
[image via lev radin/shutterstock]
Follow Colin Kalmbacher on Twitter: @colinkalmbacher
Have a tip we should know? [email protected]