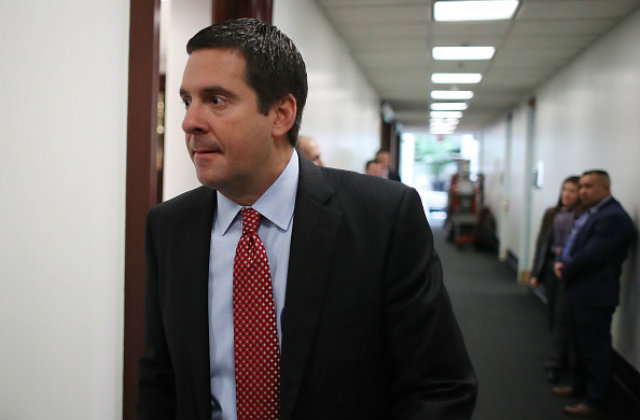 The Federal Bureau of Investigation said Wednesday that the memo by Rep. Devin Nunes (R-California 22nd District) has some "accuracy" problems.
In statement, FBI says it has "grave concerns about material omissions of fact that fundamentally impact the [Nunes] memo's accuracy." pic.twitter.com/RuTGTVijvw

— Shane Harris (@shaneharris) January 31, 2018
The classified memo by Nunes, chairman of the House Intelligence Committee, purportedly covers whether the Obama administration abused the FISA court to conduct surveillance of the Trump campaign. The committee voted Monday to release it, but the FBI says they had "limited opportunity" to look it over first.
"As expressed during our initial review, we have grave concerns about material omissions of fact that fundamentally impact the memo's accuracy," they said.
The FISA situation reportedly is said to have continued into the current administration. Republicans have complained of late that Deputy Attorney General Rod Rosenstein okayed the application to prolong surveillance into former Trump campaign foreign policy adviser Carter Page, according to a New York Times report from Sunday. The article cited three people "familiar" with the memo, which purportedly says the FBI and Department of Justice didn't completely explain to the FISA judge that they based their warrant in part on the disputed Fusion GPS dossier, which, as you may remember, was funded by the Clinton campaign and the Democratic National Committee.
The DOJ denied wrongdoing in a statement last Wednesday, and said the House committee shouldn't release the memo because it contained classified information.
"Indeed, we do not understand why the committee would possibly seek to disclose this information without first consulting the relevant members of the Intelligence Community," said the letter by Assistant Attorney General Stephen Boyd.
The memo lands on the party-line fissure in Congress, and Democratic critics say Nunes is just trying to discredit the investigations into whether the Trump campaign colluded with Russia's to influence the 2016 election.
[Image via Mark Wilson/Getty Images]
Have a tip we should know? [email protected]