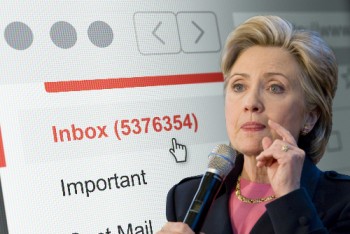 Several news outlets on Friday evening are reporting Hillary Clinton's presidential campaign is the latest organization affiliated with the Democratic Party to fall victim to a computer hacking scheme.  Solid information about the alleged hack is essentially non-existent.  However, LawNewz.com can confirm the Department of Justice is involved in an investigation into the alleged hack of the Clinton campaign computer systems.
Earlier on Friday, Reuters cited an anonymous source to report the Department of Justice National Security Division (DOJ-NSD) is involved in an investigation into the alleged hack. A source reportedly told the wire service the involvement of the DOJ-NSD indicates a belief among federal investigators that the hack is "state sponsored."
A bit later on Friday, the FBI then announced they are still trying to determine whether there is any validity to the reports.
"The FBI is aware of media reporting on cyber intrusions involving multiple political entities, and is working to determine the accuracy, nature and scope of these matters, the FBI said in statement, according to ABC News. "The cyber threat environment continues to evolve as cyber actors target all sectors and their data. The FBI takes seriously any allegations of intrusions, and we will continue to hold accountable those who pose a threat in cyberspace."
The Clinton campaign also released a statement late Friday denying the computer system had been breached, according to ABC News.
"An analytics data program maintained by the DNC, and used by our campaign and a number of other entities, was accessed as part of the DNC hack," the campaign said.  "Our campaign computer system has been under review by outside cyber security experts. To date, they have found no evidence that our internal systems have been compromised.
To add more confusion, throughout the evening several media outlets including CNN and The New York Times also put out reports citing anonymous sources that continued to push the narrative that the Russians were behind the hack.
In attempt to make sense of all of these seemingly conflicting reports, LawNewz.com first reached out to the Office of the Director of National Intelligence (ODNI), but the spokesperson declined to comment on the reports.
Finally, a Department of Justice spokesperson did confirm to LawNewz.com in an email on Friday evening there is an investigation into the alleged hack of the Clinton campaign computer systems and that the DOJ is involved.  Although, the spokesperson would not elaborate on which division of the DOJ was involved in the investigation.
All that said, there is still nothing official on the record confirming who might be responsible for the attack.
Have a tip we should know? [email protected]