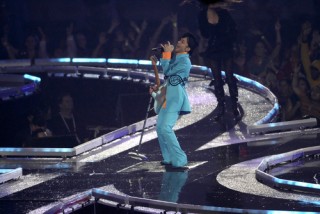 The search for Prince's heirs is, finally, slowing down. With the legendary musician, real name Prince Rogers Nelson, not having a will, his April 21st death left his estate in chaos. After over two dozen potential heirs tried to get stake a claim on his fortune, Carver County District Court Judge Kevin Eide ordered DNA tests for just six of them on Friday.
Per Eide's order (PDF), the following people will be tested:
Tyka Nelson, the only sibling who he shares both parents with.
Half-siblings Sharon Nelson, Norrine Nelson and John Nelson.
Potential niece Brianna Nelson.
Potential grand-niece Victoria Nelson
Others, like the "kidnapped scientist" who was asking for $750 billion, are now out of the picture. The Atlanta Journal Constitution noted that "It's unclear why the judge did not order testing for Omar Baker or Alfred Jackson, two men who were listed as half-brothers in the original petition for the court to name a special administrator to the estate." After all, Tyka Nelson did submit that petition herself (PDF), and you would think that she would have a handle on her brother's known heirs.
Resolving the status of the estate should allow his heirs control of Prince's catalog and image for licensing. When the BET Awards did a Prince tribute segment last month, they needed to negotiate a deal with the special administrator to get the rights to cover his songs and use only certain photos of him.
Have a tip we should know? [email protected]om