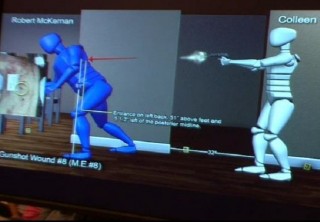 The testimony and exhibits presented in court during the murder trial of Colleen McKernan on Thursday gave the jury a better understanding of what it might have been like on New Year's Eve 2014, when McKernan shot and killed her husband Rob. 

In the morning, as Detective Jason Gohlike testified, the jury got to hear an audio recording of the 911 call Colleen McKernan made after shooting her husband. She told the dispatcher that she was drunk, her husband had placed his hands on her, and she shot him. The jury also saw images of Colleen with blood on her face, from when authorities responded to the scene.
After the prosecution rested their case, the defense began calling witnesses. The testimony of Scott Roder described a computer animated rendering he made that depicts the crime scene and the incident in question. Roder had not been present at the scene, but he prepared the rendering based on a file that included Colleen McKernan's account of what happened. Judge Chryssa Hartnett instructed the jury that the video should be considered demonstrative evidence, and not actual testimony.
LawNewz.com is providing continuing coverage of the case, including live streaming video of the trial, as well as video analysis.
Have a tip we should know? [email protected]