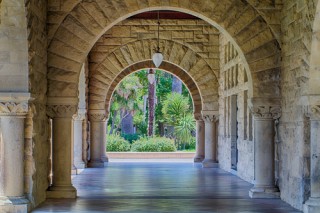 Stanford University just announced its solution to the problem that's been bugging us all summer: smaller bottles of booze. So, in other words, students can still drink, as long as the bottles are small enough to fit easily inside their backpacks.
The school has instituted several policies for their over-21 students:
No alcohol is allowed at on-campus parties where undergrads will be present
No shots of hard liquor are allowed at any party.
Students drinking in their dorm rooms may only have bottles of alcohol smaller than 750 mL.
I have mixed feelings about Stanford's new alcohol policy. On one hand, I think any measures taken to limit alcohol consumption on campuses is a good thing. In its official statement, Stanford pointed out:
"Most alcohol retailers only sell large-volume containers — 750 mL and above. Only select retailers sell hard alcohol containers smaller in volume than 750 mL. Therefore, the outlet density of establishments that sell hard alcohol around campus will be greatly reduced. Also, the costs associated with purchasing smaller containers of hard alcohol are higher than the cost per volume of larger containers, which may serve as a deterrent."
If it's really true that such a restriction will reduce the number of places from which students will obtain alcohol, then that's a good thing. The fact that this restriction doesn't solve every problem doesn't mean that it's not well-intended and well-crafted. There's too much substance abuse on our campuses, and anything that helps is fine by me.
But something about this new policy as Stanford's only policy change since The Summer of Brock Turner is bugging me.
I think this tweet said it best:
#Stanford: not solving the problem, but solving a problem that, when you squint, is sorta kinda next to that problem https://t.co/to6JIUI2LE

— Adrian Daub (@adriandaub) August 23, 2016
Alcohol is a problem. It's just not the problem.
When I read the letter sent to students by Greg Boardman, Stanford's Vice- Provost for Student Affairs, I was again struck by level at which alcohol is the university's favorite – and only — fall guy.
"When considering a policy, one can look at it through multiple lenses. I challenge you not to focus on the policy as something to be worked around. Instead, I ask you to bring your best selves to this endeavor, to consider the real concerns raised by your fellow students, and those articulated here, and to be a part of solving this problem."
Speaking of looking at things through multiple lenses, there are plenty of people who will interpret Stanford's new policy as some Grade-A victim-blaming. Stanford has been in the middle of a shitstorm all summer over the Brock Turner case. One of its lauded athletes sexually assaulted a defenseless victim; in response, the first thing Stanford did was to tighten up regulations that related to the victim's behavior. Maybe that's victim-blaming. Maybe it's just good alcohol education. I'm not entirely sure it matters.
I spoke today with Heather Cucolo, Professor of Law at New York Law School and co-author of Shaming the Constitution, a comprehensive review of sex-offender law, to be released in March 2017. Professor Cucolo opined as follows:
"I take such issue with this whole victim-blaming debate, because I feel as though it is a fruitless discussion that truly doesn't help anything. We have to take some responsibility to make sure that we're making smart choices and decisions. It doesn't mean that you weren't victimized—but there's nothing wrong with also trying to encourage smart choices. It's not victim-blaming. It's victim awareness."
Victim-blaming or not, it would sure be great for college girls to drink less. I can't help but wonder whether, if Turner's victim had been unconscious because she'd had a seizure or an allergic reaction, Stanford would have released a policy on seizure-awareness, or have reminded students about the importance of carrying EpiPens (at least for those who could afford the copay).
I suppose it's possible that simply removing victims from the equation will help minimize the campus rape statistics — but focusing on alcohol consumption misses the point in a big way. Sexual assault on college campuses is a complex problem without a ready solution. Stanford would do well to admit that – but instead, it issued the following in its initial statement about the Brock Turner case:
"There has been a significant amount of misinformation circulating about Stanford's role. In this case, Stanford University, its students, its police and its staff members did everything they could. Stanford University takes the issue of sexual assault extremely seriously and has been a national leader in taking concrete steps to implement prevention programs…"
It's awfully convenient for Stanford to conclude that everyone involved did "everything they could." But such an assertion is patently unreasonable. Stanford's outright declaration that the actions of university faculty, staff, and student body were beyond reproach cannot exist in the same logical universe as the facts of Turner's crime. Stanford didn't do everything it could to protect Turner's victim. It didn't create a campus environment that was sufficiently hostile to rapists. It failed. Any other take on things is just plain wrong.
Undoubtedly, the question of what a university should or could do to protect its students from sexual assault is a difficult one. Truly effective prevention of sexual assault would require knowledge of the causes of sexual assault – and that's no easy task. There are rapes that are the result of drunken-fraternity-hazing culture, and those that are the result of pervasive mental illness; there are rapes that are predictable and those that are not. The root cause of the epidemic of campus sexual assaults isn't clear – but what is clear is that not enough is being done to combat it.
Stanford's new policy smacks of the disingenuousness that's becoming the hallmark of American universities following a campus rape. Professor Cucolo agreed:
"I don't think that it's going to have any effect on preventing assault. It's a feel-good measure that Stanford wants to put in place to protect its reputation. Colleges and universities are implementing these measures without looking deeply into the problem. But I'm not sure any of us want to look deeply into it, because it's our college kids. To really examine the cause of campus sexual assault, we'd have to look at everything from the environment, to parenting to social culture."
When it comes to campus sexual assault, as with alcoholism, admitting that there is a problem problem is the first step. Stanford might do well to keep that in mind before issuing its next statement.
This is an opinion piece. The views expressed in this article are those of just the author.
Elura Nanos - Columnist & Trial Analyst, Law & Crime; CEO Lawyer Up