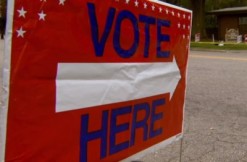 Federal judges for the 4th Circuit Court of Appeals struck down North Carolina's controversial voter ID law on Friday. They overturned a district court decision upholding the statute.
Writing for court, Judge Diana Gribbon Motz insisted that they weren't accusing lawmakers who pushed the policy (Republicans) of "racial hatred," but the policy was still discriminatory.
"Although the new provisions target African Americans with almost surgical precision, they constitute inapt remedies for the problems assertedly justifying them and, in fact, impose cures for problems that did not exist," she wrote.
The three-judge panel was not quite unanimous. Motz partially dissented, saying the case should've been remanded to a lower court for review, but the other judges disagreed. James A. Wynn wrote that immediate action was justified because of the law's "discriminatory intent."
North Carolina's Republican-controlled General Assembly passed the voter ID law in 2013, which made it harder to be a registered voter, and imposed controversial voter ID requirements. It was purportedly written to fight election fraud, but critics said it actually kept black voters from making it to the polls.
The case is a result of several consolidated lawsuits brought by the NAACP, and the American Civil Liberties Union.
"With surgical precision, North Carolina tried to eliminate voting practices disproportionately used by African-Americans," said Dale Ho, director of the ACLU's Voting Rights Project, said in a statement obtained by LawNewz.com. "This ruling is a stinging rebuke of the state's attempt to undermine African-American voter participation, which had surged over the last decade. It is a major victory for North Carolina voters and for voting rights."
[screengrab via PBS]
–
Follow Alberto Luperon on Twitter (@Alberto Luperon)
Have a tip we should know? [email protected]