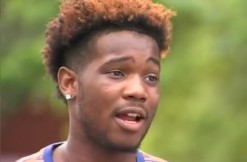 According to a statement, Georgia woman Casey Blaney first heard about 19-year-old Fred Barley in early July, when his story was spread through social media. The homeless teen had biked 50 miles to register for the local Gordon State College. He went as far as to camp outside until he was allowed to move into dorms in late-July. Blaney said she reached out to him, and was so touched by his story that she started a GoFundMe page for him. It was a success, easily beating their $150,000 goal. But local gossip had it that Barley was a fake, some sort of con-man, the Atlanta Journal Constitution reports. The fate of that money is now uncertain.
GoFundMe has frozen the $184,216. Blaney explained on Thursday.
Unfortunately, multiple questions have been raised about Fred's story. We've received conflicting information about his initial story, and we just want to make sure the donors and the public have all of the information available to them before the funds are transferred to a trust to pay for his education. We just want to do the right thing, and we've asked for the campaign to be reviewed.

Our goal has always been to help Fred and help pay for his education, but with the questions raised, we believe Fred needs to provide additional information.

We're grateful for the outpouring of support and we'll continue to work with everyone to ensure the funds are managed appropriately.
Blaney originally halted donations a week ago. In a now deleted Facebook post obtained by the AJC on July 22, Blaney said she wanted to transfer the funds to an educational trust for Barley. She said she was overwhelmed by "the multitude of calls, texts, social media requests and comments."
As for Barley, he took to Facebook on Thursday, disputing claims that he's a fraud.
"Whatever transpires between Casey and I, I want her to still know that I love her and forgive her," he said. You can read the full statement here:
GoFundMe is still investigating the claim, and the money will remain frozen until they're done. No legal action has been announced.
–
Follow Alberto Luperon on Twitter (@Alberto Luperon)
Have a tip we should know? [email protected]