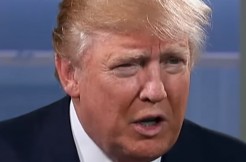 Ahead of the Super Tuesday showdown, a panel of four appellate judges in New York unanimously dealt a major blow to Donald Trump and his humbly named "Trump University." The judges ruled the case can go forward.
Attorney General Eric Schneiderman says the school was never recognized by the state, and was just a big lie for the real estate mogul to sucker students with promises they'd learn The Donald's real estate secrets. Instead, their wallets were allegedly sucked dry, according to the suit.
"Respondents engaged in a widespread marketing campaign for Trump University both in New York and across the country to lure prospective students to a free 90-minute seminar that served as a sales pitch for a three-day seminar ," the suit, via The Wall Street Journal, states. This kept escalating costly packages in the tens of thousands of dollars.
And the lessons were allegedly bunk, the teachers barely meeting standards. "In fact, respondents lacked substantiation for the claims that their instructors and mentors were successful real estate entrepreneurs," the suit states.
Though the school promised all teachers were chosen by Trump, allegedly only one ever met The Donald, court papers say.
Trump University was founded in 2005, and went defunct in 2011, after it changed its name to The Trump Entrepreneur Initiative. The suit was filed  in August 2013 after almost 70 disgruntled Trump students alleged they'd paid thousands of dollars in services that were never delivered. Lawyers for the defendants said the suit should've been tossed, arguing the statute of limitations had run out.
"Today's decision means our entire fraud case can move forward, and confirms that the case is subject to a six-year statute of limitations," Schneiderman said in a press release. He claimed the school "defrauded more than 5,000 consumers out of millions of dollars."
Alan Garten, general counsel for the Trump Organization (also a defendant in the case) announced, "We respectfully disagree with the court's decision," and promised to make an appeal. He claims none of the allegations are true, and that "No one was defrauded."
This ruling happened on the same day as the so-called "Super Tuesday," when 12 states hold Democratic and Republican primaries. Trump is projected to do well on his end, setting him up for a strong lead.
[h/t New York Daily News]
[image via Fox screengrab]
–
Follow Alberto Luperon on Twitter (@Alberto Luperon)
Have a tip we should know? [email protected]