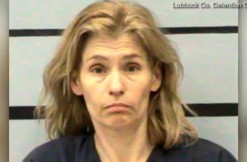 Cops in Lubbock, Texas recently arrested 42-year-old Shauna Lee Bennett, who is accused of child abandonment. Police got a call about it Saturday, and investigated, going to the apartment complex where she lived. They discovered her 3-year-old daughter wandering outside all alone, dirty, and covered in some kind of red bumps.
Investigators said they learned where the toddler lived by asking a neighbor. That apartment was a disaster. "As soon as I entered, I was overwhelmed by the filthy state of the apartment," the police report stated. Dishes were strewn on the sink, stove, and counter. Dirty to the point of being moldy, according to a cop. Roaches everywhere.
The daughter said, "I'm hungry" several times, police claim, not to mention "I need a beer."
"I had probable cause to believe that [the daughter] had not been fed, washed, or provided with any type of general medical care or treatment for an unsafe amount of time," the officer said.
Police say they questioned Bennett, and arrested her. The daughter is now with Children's Protective Services. As of Monday morning, Bennett was held at Lubbock County Detention Center unless she put up a $15,000 bond.
[h/t CBS]
[image of Bennett via CBS]
–
Follow Alberto Luperon on Twitter (@Alberto Luperon)
Have a tip we should know? [email protected]