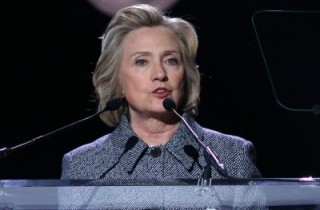 Conservative watchdog group Judicial Watch filed a Freedom of Information Act lawsuit seeking drafts of a potential indictment of Hillary Clinton that were written by prosecutors during the Whitewater investigation back in the 90s. The indictment was never filed, and neither Hillary nor then-President Bill Clinton got in trouble, but Judicial Watch wanted to see what the indictment might have looked like. They filed the suit in October 2015 in federal court in Washington, D.C.
U.S. District Judge Reggie Walton ultimately denied the request, citing court rules that keep grand jury proceedings secret. On top of that, Judge Walton said that Clinton's "substantial privacy interest" outweighed the public's interest in the drafts being disclosed. He cited a number of  cases saying that a person has an interest "in not being associated unwarrantedly with alleged criminal activity," especially when they were never indicted. This applies even when it's public record that someone was accused of criminal activity at some point. "Mrs. Clinton has a significant privacy interest in not re-visiting past criminal investigations, particularly when the investigation resulted in an indictment never being filed against her," Judge Walton wrote.
Judge Walton also noted that FOIA's purpose is to allow citizens to be "informed about what their government is up to," and that disclosure of the drafts of the proposed indictment would not accomplish that goal since it was more than 20 years ago, and Clinton did not hold a government office at the time. Additionally, the court felt that Judicial Watch's goal was not to shed light on government inner-workings, but to bring out information related to "Mrs. Clinton's honesty, credibility, and trustworthiness," which is not what FOIA is meant for.
In a statement obtained by Politico, Judicial Watch spokesman Chris Farrell said, "It's difficult to imagine how a person running for the presidency enjoys a form of 'privacy' concerning their near-indictment on criminal charges that somehow supersedes the public's right to know," disagreeing with the court's ruling. "Judicial Watch will continue to fight to make the facts public."
Judicial Watch v National Archives and Records Administration by LawNewz on Scribd
[Image via Hillary Clinton via JStone/Shutterstock]
Have a tip we should know? [email protected]