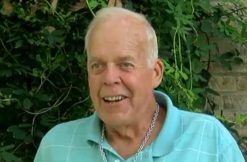 A parade float in Aurora, Indiana got the wrong kind of looks last Saturday. Local man Frank Linkmeyer put a display that showed "Donald Trump" executing "Hillary Clinton." The two sat next to Trump-Pence campaign signs, Benghazi references, a "Make America Great Again" poster, a Grim Reaper, a pastor, and a black Easter Island head labeled "Obama."
Indiana's Aurora Farmers Fair allows float depicting Trump executing Hillary Clinton. pic.twitter.com/2ljVm8ZkzD

— Mark Elliott (@markmobility) October 5, 2016
It was meant to be funny, but it's been getting the opposite effect.
Local woman Penny Britton blasted the display in a Facebook post on Saturday.
Who saw this float in the parade yesterday? Yes, that's a BLACK FACE Obama Easter Island head. Yes, that's HILLARY CLINTON in an ELECTRIC CHAIR with the switch being thrown by DONALD TRUMP. Who thinks this is appropriate for a fair parade where CHILDREN, SOME OF THEM MINORITIES AND GIRLS, are marching and playing instruments and watching? Who thinks this is something to laugh at or be proud of? This is DISGUSTING. This makes me embarrassed to say I live here. THIS IS AURORA, INDIANA. Congratulations.
She isn't alone in this sentiment.
"I was honestly kind of shocked at the content of the float. I'm not even sure what this level of discourse was going to accomplish," Tony Moore told WCPO. "It didn't necessarily make sense, but I could tell that it was riddled in hate."
Linkmeyer, who says he's a Democrat, always makes floats for the annual Aurora Farmer's Fair, and insists that he's lampooned all sorts of people, including cops, judges, and heart transplant patients: "It's all in fun. Laughter is the best medicine in life and this country needs more laughter — and the people that are offended by it, I'm sorry. Don't come to the parade next time." He said he could have had Trump in the chair, "It was a tossup."
Plus, he has his supporters.
"He does something every year. Frank's Frank," Patrick Schwing told WCPO. "I don't see anything wrong with it. If anybody's offended by it, then they shouldn't look at it."
The Aurora Lion's club, which runs the parade, issued a statement.
The Aurora Lions Club regrets the display which was part of the Aurora Farmers Fair parade on October 1st which offended some viewers. The parade is a public venue which does not reflect the views of the Aurora Lions Club. As a member of a worldwide service organization, we are proud and standby our record of service to this community. We appreciate the high levels of support and the esteem given to us by our citizens. We will continue to do our best to live up to their standards. We hope the political circus of this year's election stays with the national media.
[screengrab via WCPO]
–
Follow Alberto Luperon on Twitter (@Alberto Luperon)
Have a tip we should know? [email protected]