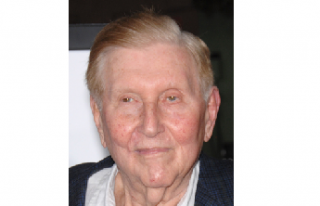 Manya Deva Natan, Esq.  is an Estate Planning Attorney in California. She is founder  of SSS Legal and Consultancy Services.
Update 12:32 a.m
The Los Angeles Times reports that a judge dismissed the case that challenged the mental competence of Sumner Redstone.
---
A trial over Sumner Redstone's mental competence could be dismissed as soon as today by a Los Angeles judge who, after viewing Redstone's video deposition on Friday, the first day of trial, told the plaintiffs that, "Your burden now is a hard one."
In the video, the beleaguered billionaire insists that he doesn't want his former lover, Manuela Herzer, in his life or making health care decisions for him.
Her lawsuit complains that Redstone – a director, chairman emeritus and controlling shareholder of CBS and Viacom – lacked the capacity to make the decision to remove her from an advance directive that would have put her in charge of his health care. Redstone now says he would like his daughter, Shari Redstone, to oversee his healthcare decisions. 
According to a transcript of the deposition, which the judge viewed privately, Redstone, 92, responded to basic questions — especially those that had yes or no responses — but struggled with others. When asked his birth name, for instance, he remained silent.  He referred to Herzer in harsh terms, complaining that she manipulated and stole from him until,  "I kicked her out."
Herzer's team suggests that Redstone suffers from dementia, and that it is others around him, including Shari, who are exerting undue influence. The defense says Redstone is fully competent and only distributes slurred speech when under stress.
These issues can arise in cases because most people aren't concerned with questions of competency until it is too late.  
Among the questions at stake in this trial: Was Redstone capable of making effective legal decisions?  Is he currently able to make legally-binding decisions? Herzer contends that he was legally incompetent when he chose to remove her as his health-care agent, as well as from his will, where she was slated to inherit $70 million in real estate and cash.  
If the court finds Redstone incompetent, his recent revisions to his estate planning documents may be determined null and void.  But if Redstone is determined to have capacity, his documents will be valid.    

As an estate planning attorney, I ask my clients, "How do you want your incapacity to be determined?" Most people grimace, as they don't want to think about their possible incompetency.  The fact remains, however, that many people, if not most, will contend with incapacity at some time in their lifetime.  People are living longer, and there are increased incidents of dementia, Alzheimer's disease, and other conditions that impair capacity.     
For the rest of us, the messy trial offers some important takeaways.  Plan for your incapacity instead of waiting until it's too late. Plan how your capacity will be determined.  In estate planning documents, you can articulate who decides whether you're capable of managing your legal and financial life.   You can choose whether one or two independent physicians should determine incapacity, and you can grant the ability to determine incapacity to a specific person, or group of people.  One can give their spouse or their adult children the ability to decide.
Unfortunately for Redstone, his capacity will be determined in the most public forum possible.  There will be testimony from Herzer, from Shari, and from other family members and colleagues.    
If Redstone is judged to be competent, his legal documents will have standing, and he will continue to have the right to exercise his 80% voting stakes in Viacom and CBS.  
If he's found incompetent, a series of dramatic changes that will take place. His most recent revisions to his estate planning documents will be null and void. Herzer would likely be reinstated as his healthcare agent, and would also likely continue to be a beneficiary under the terms of his previous will.
A determination of his incapacity may trigger a trust that Sumner established years ago to take control of his voting shares in Viacom and CBS.  This will undoubtedly have an impact on the stock prices; time will tell in which direction they will move.     
Despite all of the wealth, power and legal issues at stake, the matter could be resolved very quickly if Cowan simply concludes that Redstone still competently understands what he wants.
After watching Redstone's testimony, the judge indicated he's leaning that way.  "How can I sit here and say, after listening to that video, 'No, you can't have what you want?'" Cowan asked.  "That's a tough call."
In their motion on Sunday, Redstone's lawyers encouraged the dismissal, writing, "The court "need not preside over a trial regarding the breakdown of Mr. Redstone and Ms. Herzer's relationship."
Have a tip we should know? [email protected]