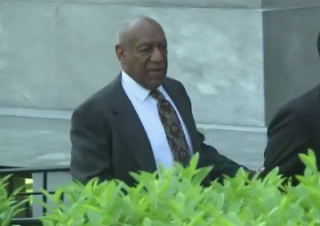 A ruling on Monday allowed Bill Cosby to continue with his lawsuit against former Temple University employee Andrea Constand, her mother, and her lawyers, according to The Hollywood Reporter. Constand is accusing Cosby of sexually abusing her in 2004, and a criminal case against the comedian is pending. Cosby claimed that Constand breached a confidentiality provision in a settlement agreement that they made, by telling law enforcement officials about the allegations and by tweeting references to them. He also alleged that Constand's attorneys violated confidentiality by being involved in the release of a deposition from years ago where Cosby admitted to giving women drugs for sex purposes.
U.S. District Judge Eduardo Robreno ruled on Monday that Cosby could not sue over Constand, her mother, or her attorneys talking to law enforcement, holding that preventing people from giving authorities information regarding alleged criminal activity would go against public policy.
Despite this, Judge Robreno held that Cosby's other claims were valid and could proceed to trial. Constand argued that she should not be held liable for her tweets because they did not mention Cosby by name. In her Twitter posts, she said, "I won't go away, there is a lot more I will say," and, "It's not that everybody just forgot about it, truth is nobody cared." Judge Robreno ruled that whether the posts referred to Cosby, and whether they violated her settlement agreement, "are questions to be answered at a later stage."
Should Cosby prevail in this case, Constand may have to pay back money that she received as part of the settlement agreement.
Have a tip we should know? [email protected]