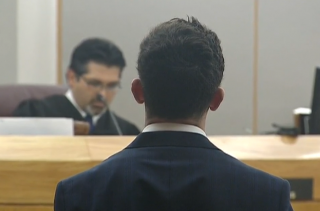 Johnny Manziel, the former quarterback for the Cleveland Browns, appeared before Judge Roberto Cañas in a pre-trial hearing on Thursday for his domestic violence case. Manziel, 23, was indicted by a grand jury in April on a misdemeanor assault charge, and turned himself in to police in Highland Park, Texas on Wednesday. Manziel is accused of slapping his slapping his girlfriend, Colleen Crowley, who told police that Manziel ruptured her eardrum in the attack, causing hearing loss, and then dragged her by the hair, forced her into a car and drove away, the Dallas Morning News reported. Manziel denies the allegations.
Manziel was released after posting $1,500 bond, and at the hearing, Judge Cañas went over the terms of Manziel's release. The judge said that Manziel cannot have any contact with Crowley and that he cannot possess any firearms. Manziel said he does not have one and there are none where he lives. The judge then had Manziel sign an affidavit saying the same thing, and let him go.
Manziel faces up to a year in jail and a $4,000 fine. He has been released by the Browns and lost an endorsement deal with Nike. Crowley has already received a protective order that says Manziel cannot see her or be within 500 feet of her home or place of employment for two years.
Have a tip we should know? [email protected]