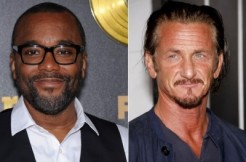 Actor Sean Penn has settled his defamation lawsuit against director Lee Daniels, who topped it off with an apology letter.
"I am so sorry that I have hurt you Sean," Daniels wrote in a statement obtained by CBC News. "Domestic violence is a very serious issue. My comments were cavalier; it was not my intention to diminish the severity of the issue, but rather to express a view regarding the disparate treatment of men of color in our national conversation."
Penn sued Daniels in September for $10 million after comments he made while attempting to defend actor Terrence Howard. Critics had taken Howard to task for his link to at least one incident of domestic violence, and Daniels, who produces the TV show, Empire, said the following in an interview with The Hollywood Reporter: "That poor boy. He [Howard] ain't done nothing different than Marlon Brando or Sean Penn, and all of a sudden he's some [expletive] demon. That's a sign of the time, of race, of where we are right now in America."
There are stories Penn violently abused then-wife singer Madonna Louise Ciccone in the 1980s: beating her with a baseball bat, tying her up for hours. But Madonna helped Penn in his defamation lawsuit, filing documents in December which stated he never abused her, according to CBC News.
So Daniels got in trouble with one actor while trying to protect another.
Penn publicly accepted the apology. As part of the settlement, Daniels will donate money to a charity Penn founded.
"I accept Lee's heartfelt apology and appreciate the sincerity with which it was delivered," Penn wrote in a statement obtained by Entertainment Tonight. "I also accept and appreciate his generous donation to J/P HRO, which will have a transformative effect on the lives of those we serve in Haiti."
[lefthand image via DFree / Shutterstock.com, righthand image via Tinseltown / Shutterstock.com]
–
Follow Alberto Luperon on Twitter (@Alberto Luperon)
Have a tip we should know? [email protected]