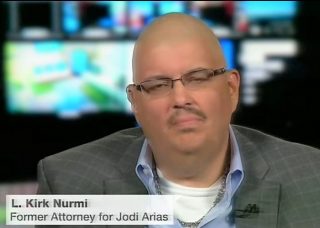 Laurence "Kirk" Nurmi, the defense attorney for notorious killer Jodi Arias, is to be suspended from practicing law for four years, after he wrote and published a book revealing confidential details about the case. The suspension is part of an agreement Nurmi made with the State Bar of Arizona, after they filed a complaint with the Arizona Supreme Court, according to The Arizona Republic.
Arias killed her former lover Travis Alexander in 2008, and Nurmi was appointed as her public defender. He tried to get off the case when he left the public defender's office in 2011, but the court refused.
Nurmi's book, which came out in November 2015, contains information from private conversations he had with Arias and her family, as well as evidence that a judge ruled was inadmissible in court. The agreement states that this was in violation of attorney ethics rules. Additionally, Nurmi is said to have made negative comments about Arias in the book and while promoting it, which also raises ethical questions.
Without the agreement, which still has to be approved by a state attorney disciplinary judge, Nurmi could be at risk of being disbarred.
The prosecutor in the case, Juan Martinez, also wrote a book, which drew complaints with the state bar, but no action has been taken yet. Martinez is facing disciplinary charges for actions taken in the Arias case and ten others, but has yet to have a hearing.
Have a tip we should know? [email protected]