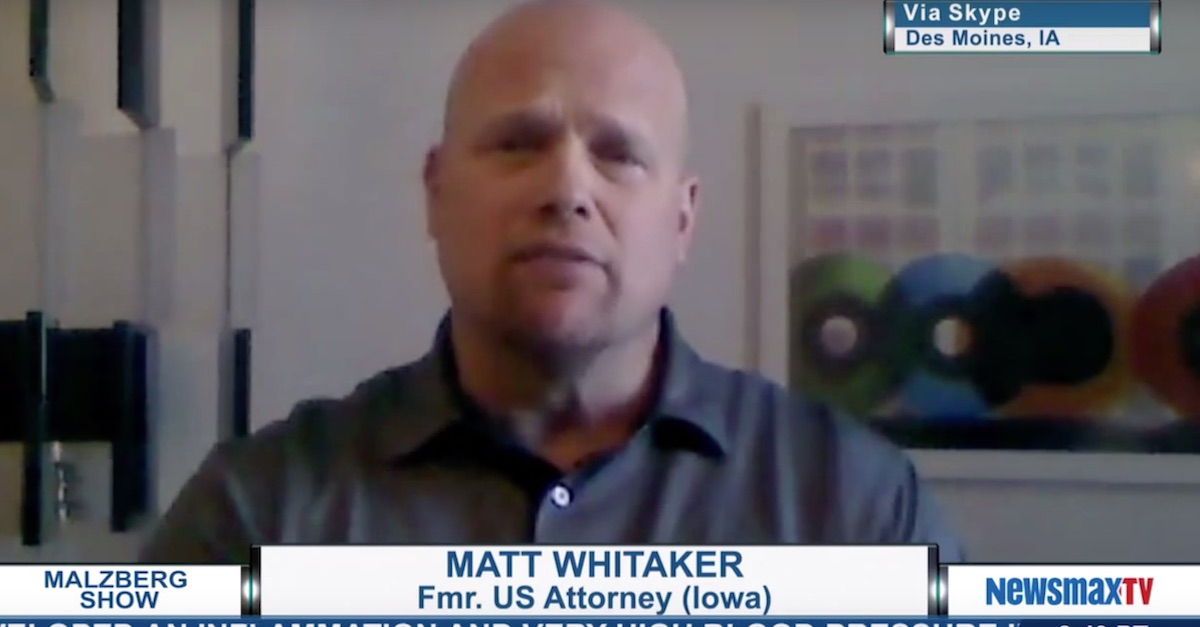 Matthew Whitaker will replace Jeff Sessions as U.S. attorney general in the wake of the 2018 midterm elections. Here's what we know about him:
1. Whitaker is viewed as a Trump loyalist.
According to the New York Times, Whitaker "cuts the kind of central-casting figure whom Mr. Trump prefers" due to his confidence and former tenure as a football player–and a starter at that–on the Iowa Hawkeyes. He's been considered as a replacement for everyone from Rod Rosenstein to Don McGahn. Chief of Staff John Kelly once described Whitaker as Trump's "eyes and ears" within the Justice Department–due to the law enforcement agency's traditional independence from the White House. Appointing Whitaker to head the department would seemingly erase that longstanding gulf.
2. He previously served as the U.S. Attorney for the Southern District of Iowa.
Whitaker served in his position from 2004-2009. A George W. Bush appointee and holdover, he tendered his resignation to Barack Obama soon after the 44th president took office. In his resignation letter, he wrote:
Being United States Attorney is the greatest professional experience and honor of my life. I am very proud of what we have accomplished in this office. We have worked very hard these almost 5 ½ years to advance the goals of the Department of Justice. We have been firmly committed to protecting our citizens from terrorist attacks, reducing gang and gun violence, protecting our children from predators, reducing the availability of meth, cocaine, and marijuana in our communities, and protecting the taxpayers through our civil division.
3. He doesn't think Trump's finances are anybody's business.
Whitaker once described the special counsel investigation led by Robert Mueller could become a "witch hunt" and in an op-ed for CNN he took great umbrage at Mueller possibly looking into Trump's wealth and income. Whitaker started off that article with a direct attack on Mueller's investigative authority. He wrote:
[W]hen President Donald Trump was asked by The New York Times if special counsel Robert Mueller would be crossing a line if he started investigating the finances of Trump and his family, the President said, "I think that's a violation. Look, this is about Russia." The President is absolutely correct. Mueller has come up to a red line in the Russia 2016 election-meddling investigation that he is dangerously close to crossing.
4. He's a two-time loser when running for political office.
Whitaker has run for elected office twice–and lost both times. In 2002, he ran for state treasurer of Iowa and lost handily to Democrat Michael Fitzgerald. In 2014, he ran for Senate in Iowa and ultimately lost the Republican primary to Joni Ernst, who went on to win the seat in a wave year for Republicans.
According to the Des Moines Register, Whitaker intended to model his Senate career on the likes of libertarian-oriented Rand Paul (R-KY) and Christian conservative Ted Cruz (R-TX). "I'm qualified to do that and I think I'm the person to do that," Whitaker said at the time.
5. He's served on the advisory board of an organization sanctioned by federal authorities.
A 2014 press release details Whitaker's appointment to the "scheme" known as the World Patent Marketing Board. And here's what the FTC had to say about that same board in 2017. The agency noted:
At the Federal Trade Commission's request, a federal court has found that the FTC is likely to prevail in its case against World Patent Marketing, an invention-promotion scheme that allegedly deceived consumers through misrepresentations about its success and the services it provided, and suppressed complaints about the company by threatening dissatisfied customers.
[mage via screengrab/YouTube]
Follow Colin Kalmbacher on Twitter: @colinkalmbacher
Have a tip we should know? [email protected]