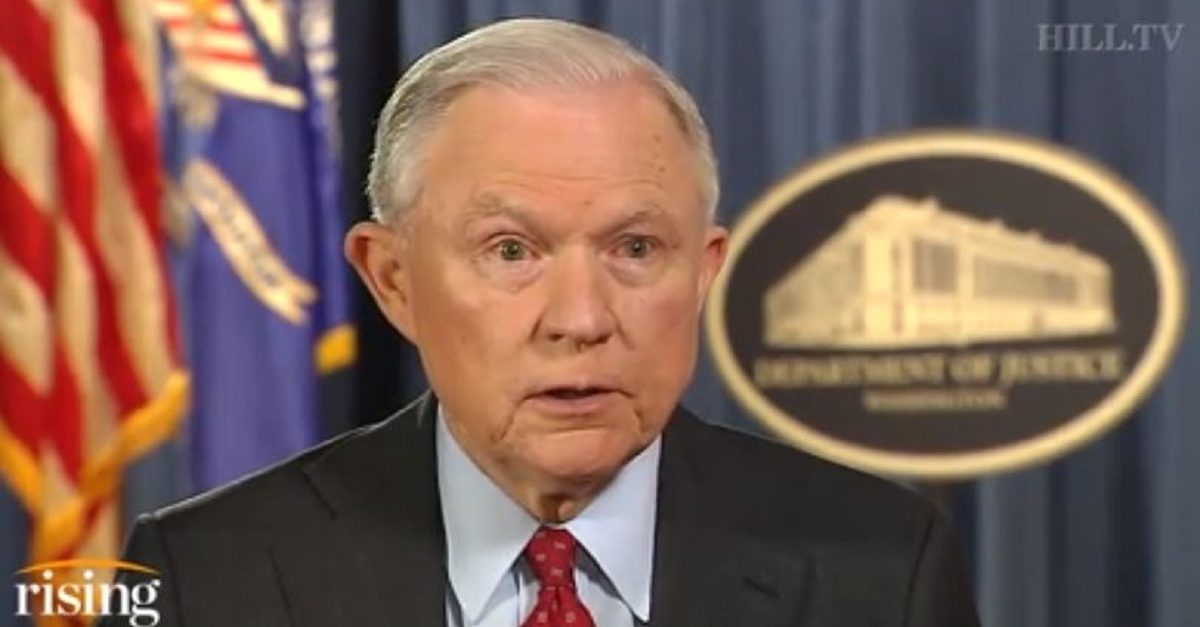 President Donald Trump announced Wednesday afternoon that Jeff Sessions is out as Attorney General, with Sessions' chief of staff Matthew Whitaker taking his place until a new permanent AG is selected and confirmed. Whitaker had previously been rumored to be up for the job.
….We thank Attorney General Jeff Sessions for his service, and wish him well! A permanent replacement will be nominated at a later date.

— Donald J. Trump (@realDonaldTrump) November 7, 2018
Trump will now go through the process of looking for his new Attorney General, and that person will have to be confirmed by the Senate. As Law&Crime previously explained, the gains made by Republicans in the Senate would likely make that confirmation go far more smoothly than Sessions'.
Much could happen in the meantime, however. With Sessions out, the DOJ announced that Whitaker is taking the reigns in overseeing Special Counsel Robert Mueller's investigation. This is in line with the Vacancies Act, which gives the president a degree of flexibility in appointing an interim replacement in the case of a resignation (even if the resignation was at the president's behest). While the current Acting AG, Deputy Attorney General Rod Rosenstein, has stood by Mueller and insisted he would not fire him without good cause, Whitaker may feel differently.
Going this route may be unwise for Trump, in light of the Democrats taking control of the House of Representatives in Tuesday's midterm elections. If Mueller gets the axe, Democrats could claim that it's obstruction of justice and impeach Trump over it.
ACLU executive director Anthony D. Romero weighed in on this in a statement obtained by Law&Crime.
"The dismissal of the nation's top law enforcement official is a huge step, one that should not be based on political motives – and certainly should not be done to protect the president or his cronies from the law," Romero said. "While the constitution grants the president the authority to dismiss his cabinet members, we will be keeping a close watch on the future of the special counsel's investigation and the impact of the appointment of a new Attorney General. "
Despite this warning, Romero was far from upset about Sessions' exit, calling him "the worst attorney general in modern American history."
Sessions' official resignation came in the form of an undated letter that opened with the sentence, "At your request, I am submitting my resignation."
Trump often criticized Sessions on social media, but on Wednesday said, "We thank Attorney General Jeff Sessions for his service, and wish him well."
[Image via The Hill screengrab]
Have a tip we should know? [email protected]