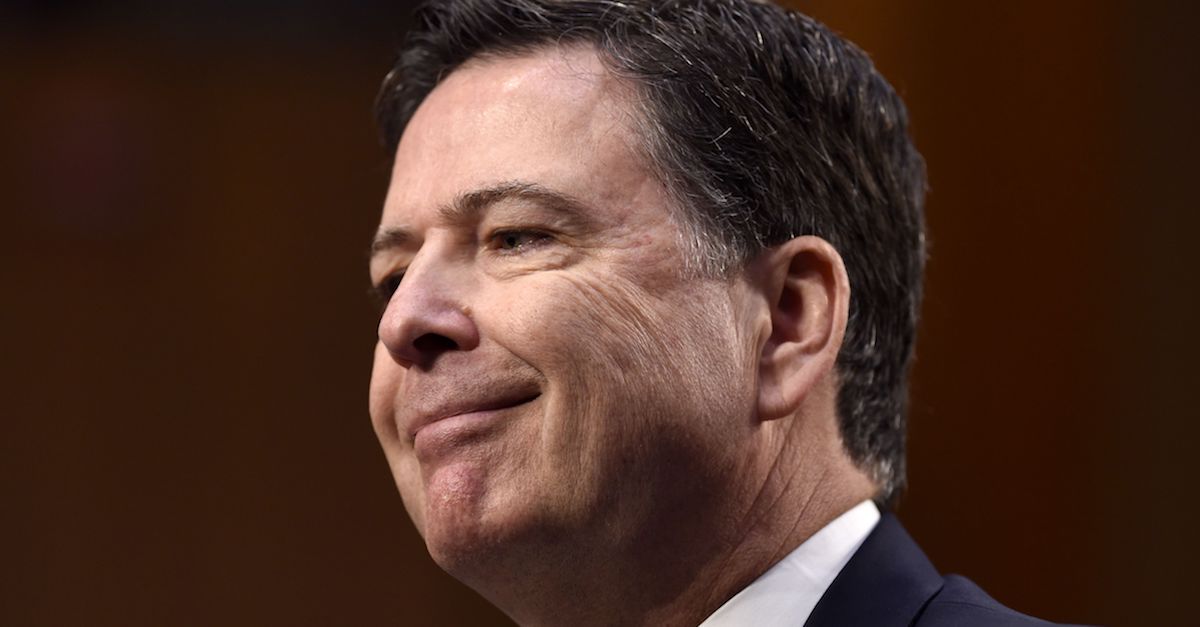 Fired FBI Director James Comey has reportedly added a longtime friend with one heck of a resume in former U.S. Attorney Patrick Fitzgerald to his legal team.
The report from Talking Points Memo cited two Capitol Hill sources that say Fitzgerald is aboard to help "navigate [Comey's] dramatic role as a potential witness in the investigation of President Trump's campaign and potential obstruction of justice."
Fitzgerald did not comment and known Comey attorney David Kelley did not confirm or deny the new hire.
Why add Fitzgerald, you ask? Fitzgerald has an impressive resume, including lengthy stints as Assistant U.S. Attorney at the Southern District of New York (Comey and Fitzgerald were both prosecutors there) and as U.S. Attorney in Northern Illinois. Fitzgerald is currently a partner at Skadden, Arps, Slate, Meagher & Flom.
There's also an amusing connection to recent news: When James Comey was the Deputy Attorney General during the Bush Administration, he authorized the Special Counsel to investigate Scooter Libby. The Special Counsel was Patrick Fitzgerald.
Libby, you may have heard, was pardoned by President Trump on April 13.
More Comey context: It was reported Friday by The Wall Street Journal that at least two of the much discussed memos Comey gave to friend and former federal prosecutor Daniel Richman had information now considered to be classified, and that the Inspector General of the U.S. Department of Justice would be reviewing classification issues.
On Saturday, Donald Trump himself took to Twitter to accuse Comey of breaking the law.
James Comey's Memos are Classified, I did not Declassify them. They belong to our Government! Therefore, he broke the law! Additionally, he totally made up many of the things he said I said, and he is already a proven liar and leaker. Where are Memos on Clinton, Lynch & others?

— Donald J. Trump (@realDonaldTrump) April 21, 2018
Comey has also in recent days said that it is possible he could be called as a witness against fired Deputy FBI Director Andrew McCabe.
Potential legal issues aside, Comey has otherwise continued his "A Higher Loyalty: Truth, Lies and Leadership" book tour.
Notably, two hecklers were removed last Wednesday from an audience on hand to see and hear Comey speak at Barnes & Noble in New York City.
[Image via Saul Loeb/AFP/Getty Images]
Have a tip we should know? [email protected]