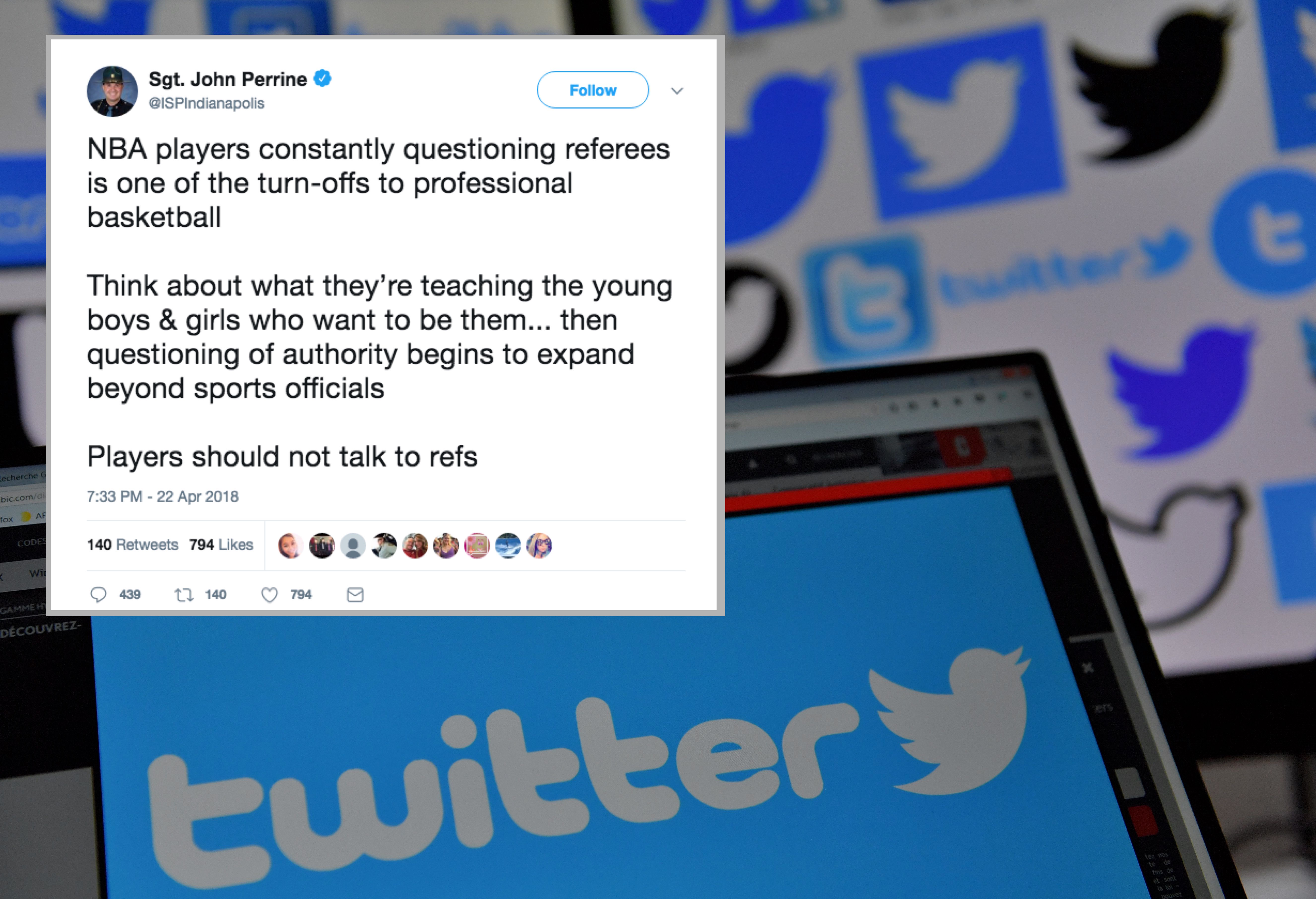 Sgt. John Perrine operates the official Twitter account of the Indiana State Police Public Information Office for Central Indiana. Over the weekend, he said some things about professional basketball players that he later admitted were off-base–and Twitter users were not having it.
In a tweet sent at 7:33 p.m. on Sunday, Perrine wrote:
NBA players constantly questioning referees is one of the turn-offs to professional basketball

Think about what they're teaching the young boys & girls who want to be them… then questioning of authority begins to expand beyond sports officials

Players should not talk to refs
Perrine's musing was quickly tagged as out-of-element (even though he is a Hoosier and Indiana is where basketball grew up). His comments were seized upon and subsequently slammed in the replies. Falling just shy of being ratioed, the tweet quickly amassed a series of upset Twitter users questioning the logic and optics of a police officer tsk-tsking the idea of questioning authority.
A typical response comes by way of Twitter user Duck, who wrote:
So youre saying people shouldnt question authority and just take what they have to give even if they feel theyre wrong?

— Duck (@Quackenbush23) April 23, 2018
Another common refrain, this time courtesy of user Ray Bailey, said:
People who don't want to be questioned, shouldn't be in a position of authority! Let's not pretend all authority is righteous!

— Ray Bailey (@RayBay30) April 23, 2018
Twitter user Micah Gantman said there was a racial dimension to Perrine's tweet. He wrote:
White male person of authority doesn't want authority questioned? Shocking. Think about what you're teaching young people to never ask questions. Same guy probably argues "stick to sports" etc

— Micah Gantman (@mfg) April 23, 2018
Rob McKee agreed with the NBA criticism, but savaged the rest of Perrine's logic:
Questioning refs is bad, but having kids growing up questioning authority is great! Two totally different things here. Questioning authority in a non sport setting is a right, set by our Constitution.

— Rob Mckee (@bigrobmckee) April 23, 2018
Comedian Ian Karmel, perhaps, summed up the Twitter mob's mood best with a subtle rejoinder:
You should not tweet.

— Karmelle Mel (@IanKarmel) April 23, 2018
After the almost entirely appalled responses were tallied, however, Officer Perrine was blinded by the light of his replies and admitted that he made a mistake. Inspect the timeline. For every heavily favorited reply to Perrine, Perrine begins to engage his critics.
At first, Perrine said he said people missed his point. Then he said he simply worded his thoughts poorly. Finally, he abandoned any pretensions of a defense and agreed that he "completely missed the boat on this one."
In the end–after having his own authority publicly questioned by hundreds of people on Twitter dot com–Perrine came to agree with his critics in the main.
In response to Karmel, Perrine wrote, "Questioning of authority creates accountability."
[image via screengrab/Twitter and LOIC VENANCE/AFP/Getty Images]
Have a tip we should know? [email protected]