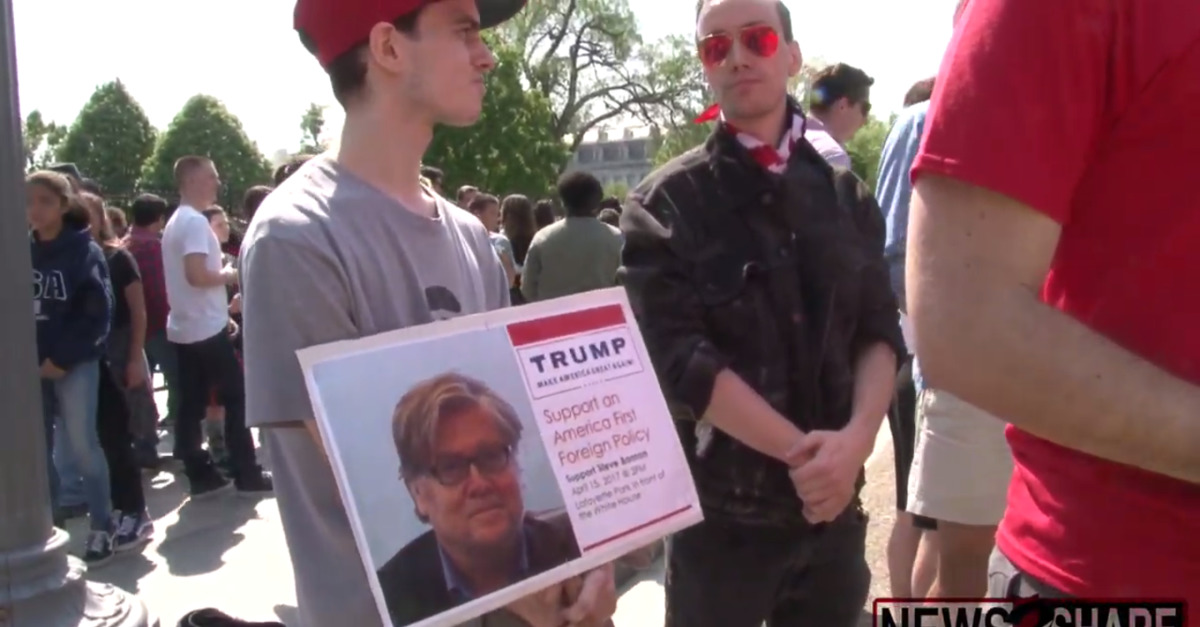 Jeffrey Clark, who, according to HuffPost, was "not shy about being a neo-Nazi," was arrested on Friday by the FBI after allegedly calling the Tree of Life Synagogue massacre in Pittsburgh a "dry run for things to come." In 2017, Clark apparently worked as a videographer for conservative commentator and Pizzagate conspiracy theorist Jack Posobiec, though Posobiec has denied this.
Jeffrey Clark and his brother Edward Clark were reportedly hired by Posobiec when the latter served as D.C. bureau chief for the conservative outlet The Rebel Media. The HuffPost reports that Posobiec was later fired by the outlet after allegedly plagiarizing Jason Kessler, the alt-right organizer behind the deadly Unite the Right rallies in Charlottesville, Virginia that ultimately claimed the life of 32-year-old socialist Heather Heyer.
The Clark brothers were apparently retained to help Posobiec put together a film about slain Democratic National Committee staffer Seth Rich–another favorite source of conspiracy theorizing for the right.
Laura Sennett is a researcher at the One People's Project, a non-partisan and non-profit organization dedicated to anti-racism, civil liberties and reforming neo-Nazis in the United States and Canada. She spoke with Jeffrey Clark about his time as a videographer.
In comments to HuffPost, Sennett described the genesis and features of the alleged Clark-Posobiec relationship.
"[Clark] told me that Jack Posobiec hired him and his brother to follow him with a camera to take video of his investigation of Seth Rich," she said. "Not sure if it was a documentary or a news story, but [Posobiec] was doing some kind of reporting for Rebel Media."
Sennett also claimed that Clark and Posobiec are ideological fellow travelers–at least in Clark's estimation.
She said:
I asked [Clark] if Posobiec was aware of his Nazi beliefs. He told me that Posobiec absolutely was and had told [Clark] that he was sympathetic to those beliefs.
Posobiec denied Sennett's claim.
"I've never heard of a Jeffrey Clark," he told HuffPost. "I have never hired anyone for Rebel Media, certainly not hired this person, and I never made a Seth Rich documentary for Rebel Media."
The HuffPost's story, however, contain images which allegedly show Posobiec "traipsing around" the Clark family's Washington, D.C. neighborhood of Bloomingdale.
In comments to Law&Crime, Posobiec again denied the allegations and noted that he was late to respond due to the time difference as he is currently traveling in Europe. He said:
[T]he HuffPost piece [is] ridiculously false on it's face and disgusting gossip at it's worst. I never hired these sick people or had any relationship with them. When I was Rebel I did not have any videographer on payroll, nor did I have the ability to hire them. The only reporting I did on Seth Rich was a field report from the crime scene where I talked to people in the neighborhood, which is apparently the same neighborhood that these people lived in.
In an email to Law&Crime, The Rebel Media's Ezra Levant also took issue with the original HuffPost story.
"We have never produced a Seth Rich conspiracy theory video, and today is the first time I have heard the names in that Huffington Post gossip story," Levant said. "Needless to say, we didn't hire them."
According to the criminal complaint, Jeffrey Clark was a frequent user of Gab, a self-styled "free speech" website which served as an alternative to Twitter for those with extreme right-wing views–before it was shuttered in the aftermath of the Pittsburgh shooting. Since its inception, Gab found itself serving as online haven for the alt-right, neo-Nazis, white nationalists, and various other reactionary tendencies.
Posting on Gab under the username @PureWhiteEvil, Clark praised the alleged Tree of Life shooter Robert Bowers.
"The fucking kikes that got shot by the hero #RobertBowers were all active supporters of pedophilia," Clark allegedly wrote. "And every last one of them deserved exactly what happened to them and so much worse."
According to Clark's own family members, the self-professed white nationalist also bragged about being "friended" by Bowers. His family also said that the Clark brothers "believed there would be a race revolution and they wanted to expedite it."
On November 9, after family members alerted law enforcement to his potentially violent plans, federal agents discovered a cache of weapons and arrested Clark for the possession of illegal firearms and a high-capacity magazine.
[image via screengrab/News2Share]
Follow Colin Kalmbacher on Twitter: @colinkalmbacher
Editor's note: this story has been amended post-publication to include a response from The Rebel Media and from Jack Posobiec and for clarity.
Have a tip we should know? [email protected]