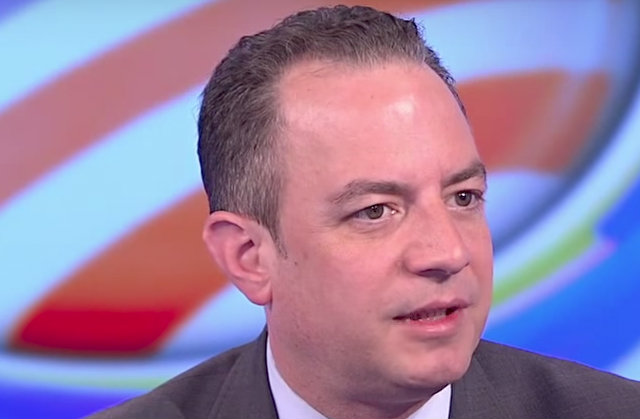 A nonprofit legal group is asking if White House Chief of Staff Reince Priebus is being investigated as part of Special Counsel Robert Mueller's probe into the Trump presidential campaign's alleged collusion with the Russian government.
Back on February 24, Citizens of Responsibility and Ethics in Washington had asked the Department of Justice's Office of the Inspector General to investigate "allegations of improper communications" between Priebus and FBI Deputy Director Andrew McCabe regarding the FBI's Moscow probe. CREW finally got their response in a letter dated July 5, but the government's noncommittal answer now has them asking "Is Robert Mueller investigating Reince Priebus?"
BREAKING NEWS: Is Robert Mueller investigating Reince Priebus? pic.twitter.com/QpRbLu3nfZ

— Citizens for Ethics (@CREWcrew) July 11, 2017
Wrote the OIG:
Given the scope and nature of the Special Counsel's investigation, and the potential for factual overlap between that investigation and the topics you have asked us to investigate, we intend to defer to the Counsel unless and until we are confident that any OIG investigation of misconduct allegations can be conducted in a thorough and fair manner and without interfering with the Special Counsel's work.
Strictly speaking, the OIG says that want to be careful about staying out of Mueller's turf. But for CREW, this letter could mean that Priebus is the subject of an investigation.
Is he? It's highly doubtful that Mueller or any member of his team would announce this on record before the probe wrapped up. In March, then-FBI Director James Comey confirmed the existence of an FBI investigation into alleged collusion between the Trump campaign and Moscow, but even he said this announcement was irregular. Deputy Attorney General Rod Rosenstein appointed Mueller to special counsel in May, shortly after President Donald Trump fired Comey.
As for Priebus, CREW filed a complaint against him with the DOJ on February 24. Media reports at the time said he and McCabe may have had improper communications over the FBI's Russia probe. For example, in a CNN report, he asked the deputy director and Comey to make the FBI tell reporters, on background, that a New York Times article (about Trump campaign aides having contact with Russian intelligence) was inaccurate.
Trump and his spokespeople have denied collusion allegations.
CREW has butted heads with the administration for months. They successfully filed a Hatch Act complaint against White House Director of Social Media Dan Scavino, and recently made another one targeted at United Nations Ambassador Nikki Haley.
[Screengrab via ABC]
Have a tip we should know? [email protected]