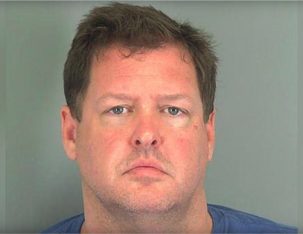 Authorities in South Carolina say they will continue to search for more human remains on Monday on a piece of property belonging to alleged serial killer Todd Kohlhepp.  Over the weekend, investigators say they discovered human remains belonging to two individuals on the property.
Kohlhepp was arrested last week after investigators found missing woman Kala Brown alive and chained up inside a storage container located on the property.  Brown told investigators her boyfriend, Charles Carver, had been killed in front of her weeks earlier.  His body was discovered buried on the property on Friday, according to WYFF TV 4.  Brown and Carver were first reported missing on August 31, 2016.
The second body was discovered on Saturday after Kohlhepp led sheriff's deputies to the location.  Authorities have not confirmed any additional details about that reported find.
According to WPSA 7 News, Kohlhepp is now a suspect in at least seven homicides, including the murder of four people at a motorcycle repair shop back in 2003.  The motorcycle shop murders had been a cold case, but Kohlhepp reportedly admitted to the killings and provided investigators with details that only the killer would know.
Kohlhepp appeared in court on Sunday where he was charged  with kidnapping Brown and with four counts of murder based on his confession to the 2003 motorcycle shop murders.  However, authorities have not charged him in connection with the two bodies discovered on his property because they are still awaiting full autopsy results.
Kohlhepp was denied bond at the court hearing on Sunday.
[image via Spartanburg County Sheriff]
Have a tip we should know? [email protected]