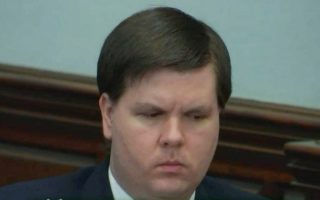 Closing arguments have concluded in the murder trial of Justin Ross Harris. Harris is accused of intentionally leaving his 22-month-old son in a hot car to die. He is also facing charges for allegedly sending sexual images and messages to an underage girl.
Attorney Chuck Boring gave the closing for the prosecution. Boring pointed to Harris' reaction to his son's death as a sign of his guilt. Boring said that it wasn't until Harris was in police custody that he began expressing true emotion over the loss of his son.
WATCH PROSECUTION CLOSING ARGUMENT:
The prosecutor also discussed motive. While acknowledging that it's not required to prove a motive for a crime to prove guilt, he said there's plenty of evidence showing why Harris would have killed his son. Boring talked about how Harris, who was married at the time, had been messaging several women, but had said that he would never leave his wife because he loved his son. Yet, Boring said, Harris was in love with one of those women, who was distancing herself from him at the time. Harris continued to message her the day before Cooper's death.
Boring briefly discussed the charges for sending messages and images to a minor. Harris is accused of sending a picture of his genitals to an underage girl, and he allegedly sent a messages to her, asking her to do the same. Since the jury saw the messages and the image, Boring didn't waste time on those charges, saying that Harris was clearly guilty of them.
The prosecutor did go to great lengths, discussing the elements of each of the other charges in the case. First he addressed the ones that did not require an intent to kill, cruelty to children in the first and second degree, and felony murder. Boring explained that if the jury finds Harris guilty of either of the cruelty to children charges, and that Cooper died as a result of those actions, he is guilty of felony murder. He then went into the final charge, malice murder, which does require intent to kill.
Boring's main focus for establishing intent to kill was the positioning of Cooper's car seat in Harris' car. While the prosecution presented their case earlier in the trial, they spent a lot of time on the car seat, showing the jury the actual car with the seat in it, as well as a 3D rendering of what Cooper may have looked like in the car seat, in the car on the day he died. Boring argued that there's no way that Harris could have not noticed his son in the car, and therefore could not have accidentally left him behind. "If that's how that car seat looked on June 18," Boring concluded, "the defendant's guilty of all counts."
Defense attorney Maddox Kilgore went up next and presented his closing argument. Kilgore emphasized to the jury that what happened to Cooper was an accident, and that Harris insisted it was an accident when police first questioned him. "He is absolutely responsible … and he has acknowledged that from day one," Kilgore said about Harris, while making it clear that being responsible for a tragic accident is not the same as being guilty of a crime.
WATCH DEFENSE CLOSING ARGUMENTS:
Kilgore said that all of the charges related to Cooper's death were essentially the same, because they all revolved around the premise that Harris intentionally left his son in the car. Even cruelty to children in the second degree, which only requires Harris to be criminally negligent, doesn't fit the case because Harris didn't realize Cooper was in the car when he went to work, Kilgore argued. Criminal negligence requires a person to act or fail to act, knowing there's a risk of danger, he said, but Harris couldn't have known there was a risk of danger when he left Cooper in the car, because he didn't realize he left him in the car in the first place.
Another point Kilgore made was that Harris' ex-wife and Cooper's mother, Leanna Taylor, testified in Harris' defense, as did Taylor's friend. Why would they do that if they believed even a little that Harris intentionally killed Cooper, Kilgore asked the jury, bluntly stating that Harris ruined Taylor's life with his mistake. The only reason why Taylor and her friend would come to Harris' defense, he said, was because it was indeed a mistake.
Kilgore also argued that there was no reason for Harris to intentionally kill his son. He said that even when he was messaging women and having extramarital affairs, he said he loved Cooper too much to leave his wife. "Ross treasured Cooper," Kilgore said, saying that there was no reason for Harris to kill him. "What does he gain?" Kilgore asked, saying that Harris was already doing what he wanted, having relationships with other women while he was married. Kilgore chose not to defend his client against the allegations that he sexted with an underage girl. Kilgore called Harris' sexual activities "reprehensible," but that they had nothing to do with his son's death.
The defense further argued that Harris was planning a family vacation for himself, his wife, and his son. He actively searched for "Carnival cruise line's kids policy," Kilgore told the jury. And the day before Cooper died, Harris contacted a travel agent about going on a vacation with his wife and son. Just hours before Cooper's death, Kilgore said, Harris was looking online for information regarding passport fees for a child. Kilgore showed the jury a screen shot of Harris' inquiry.
The defense also looked to poke holes in the prosecution's case by pointing out how they overstated evidence that Harris supposedly researched certain topics online prior to Cooper's death. While it had been said before the trial that Harris visited a message board called "Child Free," and researched hot car deaths, even watching a video about how a hot car an affect pets, testimony at trial showed that this was not entirely accurate. A link to the "Child Free" message board was sent to Harris by a friend, and after seeing it, Harris responded by saying, "Grossness." Harris also didn't research hot car deaths. All he had said to police was that he had seen a video about children being left in cars to show that he was aware that this could happen and couldn't believe that he made that mistake. And the video about pets in hot cars? Turns out he never searched for it, he just came across it online and watched it. So while there were elements of truth to some of these claims, they were not as substantial as the prosecution initially made them out to be. "You have been misled," Kilgore said in his closing argument. The prosecution chose not to address Harris' online history in their closing.
The jury will now deliberate until they can reach a decision. It could take minutes, hours, or days. LawNewz.com will keep you updated as soon as they return with a verdict, and will provide live streaming video of their announcement, when it comes.
Have a tip we should know? [email protected]