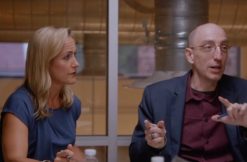 Part 2 of the CBS miniseries The Case Of: JonBenet Ramsey made a huge claim on Monday. A panel of law enforcement experts said evidence pointed to the child beauty queen's brother, Burke, as the murderer.
JonBenet Ramsey, 6, died at her family's Boulder, Colorado home overnight on December 25 or 26, 1996 (the exact date is in dispute). Her shocking murder sparked national media coverage, and investigation that looked at many suspects, including her parents John Ramsey and Patsy Ramsey.
The panel suggested that Burke Ramsey, then 9, hit his sister in a fit of childish anger. They said it likely wasn't a premeditated killing, but the parents may have covered it up to protect their only surviving son. These experts, led by former FBI analyst Jim Clemente and former Scotland Yard criminal behavioral analyst Laura Richards, seemed unanimous. They included former FBI supervisory special agent Stan Burke, former investigator James Kolar, forensic scientist Dr. Henry Lee, and forensic pathologist Werner Spitz.
In a recent interview with Dr. Phil, the now 29-year-old Burke denied that anyone in his family was responsible for his sister's death. His parents (mother Patsy died from cancer in 2006) long claimed that Burke wasn't aware of the killing until after police arrived.
We've reached out to the Boulder Police Department for comment about this third-party investigation, but their Public Information Officer declined to issue a statement on this new allegation. On September 1, Chief Greg Testa released a statement declaring the BPD's continued dedication to the case.
"Members of the Boulder Police Department will not be participating in interviews related to this investigation," he said, adding that they'll announce new information when they have it.
Tipsters are also welcome to reach out. From the BPD website:
Anyone with information about JonBenet Ramsey's homicide is asked to contact the Boulder Police Department Tipline at 303-441-1974 or [email protected] . Those who have information but wish to remain anonymous may contact the Northern Colorado Crime Stoppers at 1-800-222-TIPS (8477). Tips may also be submitted through the Crime Stoppers website at crimeshurt.com. Those submitting tips through Crime Stoppers that lead to the arrest and filing of charges on a suspect(s) may be eligible for a cash reward from Crime Stoppers.
December will mark 20 years after Ramsey's death.
[screengrab of Richards, on left, and Clemente via CBS]
Update – September 20, 12:34 p.m.: We reached out the Boulder Police Department about the new allegation, and the article has been changed to reflect this.
–
Follow Alberto Luperon on Twitter (@Alberto Luperon)
Have a tip we should know? [email protected]