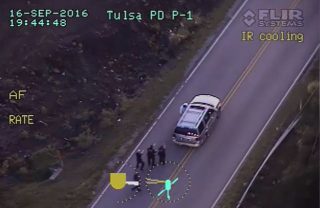 Police in Tulsa, Oklahoma have released video of white officers using a Taser and shooting an unarmed black man. Officers were investigating reports of an abandoned car that was still running. They found Terence Crutcher and his vehicle, which was stalled.
It's unclear exactly what happened during the incident, which occurred on Friday. The video shows Crutcher walking away from officers with his hands up, and then walking towards the side of a car. Officers had said that Crutcher was disobeying orders. Officers then surrounded Crutcher, blocking the view of cameras.  In the video below, taken from several cameras, Crutcher can then be seen falling to the ground, bloodied.
Watch the video here, courtesy of the New York Daily News (warning: graphic):
Police Chief Chuck Jordan addressed the media on Monday afternoon, acknowledging that Crutcher was unarmed at the time. "I'm going to tell you right now, there was no gun on the suspect or in the suspect's vehicle," he said. "I want to assure our community and I want to assure all of you and people across the nation watching this: We will achieve justice." He said a criminal investigation of the incident is currently taking place, but he did not take questions.
Police showed the footage to Crutcher's family before releasing it to the public. His twin sister, Tiffany Crutcher, spoke to reporters, lamenting what happened, while hoping that her brother's death does not lead to further violence. "Let's protest, let's do what we have to do, but let's do it peacefully, so we respect the culture of our family," she said.
Have a tip we should know? [email protected]