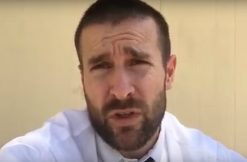 Steven Anderson, an Arizona preacher who praised the Orlando nightclub shooting, has been deported from Botswana during an international tour to perform religious services. Government officials made the announcement on Twitter early Tuesday.
Pastor #StevenAnderson, a #USA citizen has been declared a Prohibited Immigrant and as such is being deported from #Botswana

— Botswana Government (@BWGovernment) September 20, 2016
The official reason wasn't provided. We've reached out to Anderson's Faithful World Baptist Church for their take on what happened, and will update when we hear back.
His attempts to do international religious services have hit several roadblocks. He's been banned from the United Kingdom, and South Africa recently denied his visa after local LGBT activists protested, and the Home Affairs minister said he violated the constitution's prohibition against hate speech.
Anderson responded to this earlier decision in a September 13 statement on Facebook.
"I feel sorry for people who live in South Africa, but thank God we still have a wide open door in Botswana," he wrote, lacking precognition. "Stand by for reports of MULTITUDES saved in Botswana, where religious freedom still exists."
Anderson became infamous in June for a now-deleted YouTube video where he praised the Orlando nightclub shooting.
"The good news is that there's 50 less pedophiles in this world, because, you know, these homosexuals are a bunch of disgusting perverts and pedophiles," he said. Though he claimed he didn't "condone vigilantism," he supported the idea that the government should be in charge of killing LGBT people.
On June 12, Omar Mateen shot up Pulse, a gay nightclub in Orlando, Florida. 49 people were killed, and 53 were injured. It is the bloodiest mass shooting in American history.
[screengrab via Anderson]
–
Follow Alberto Luperon on Twitter (@Alberto Luperon)
Have a tip we should know? [email protected]