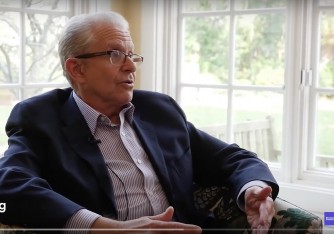 A series of tweets by well-known Harvard law professor Laurence Tribe caused a bit of firestorm online amongst legal ethics experts.
It started on Tuesday when Prof. Tribe sent out this Tweet:
I have notes of when Trump phoned me for legal advice in 1996. I'm now figuring out whether our talk was privileged. https://t.co/2v2BgxjXQ3

— Laurence Tribe (@tribelaw) August 16, 2016
What followed was a rather lengthy back and forth on Twitter, with some encouraging Tribe to reveal the notes and others accusing him of breaking various legal ethical rules governing the attorney client relationship.
Attorney Michael Krauss penned a strong rebuke of Tribe's conduct in article in Forbes, calling it "extremely disappointing." Krauss concluded that not only would the notes be confidential, but the mere fact that Trump called to seek legal advice would also almost certainly be confidential as well.
We reached out to Prof. Tribe, but he declined to comment, instead referring us to his response to critics in an article published on Friday in the National Law Journal.
Here is Prof. Tribe's full statement, from the National Law Journal:
The tweet I sent about Mr. Trump having sought my legal advice 20 years ago breached no confidence and violated no privilege. I did wonder whether disclosing my notes of that call would be improper, decided that it wouldn't be, but concluded that I wouldn't disclose the notes in any event.

People who doubt the propriety of my even having mentioned that he sought my counsel assume that the fact of his call was some kind of secret. But I have no reason to doubt that he let others know that he was calling me. It was nothing to be ashamed about.

In any event, I have never revealed the substantive topic of his inquiry, never said whether I offered him any advice, never agreed to represent him, and have said nothing at all about the content of our conversation other than that he asked my legal views about something.
LawNewz.com reached out George Washington University Law School Professor John Banzhaf to discuss the potential issues surrounding this matter.   Prof. Banzhaf specializes in public interest law, but is also well known for successfully filing formal complaints against attorneys over ethical violations.  Most notably, he played a role in the disbarment and civil litigation against Duke lacrosse prosecutor Mike Nifong.  Prof. Banzhaf has also filed ethics complaints against several of the prosecutors involved with bringing charges against Baltimore police officers over the death of Freddie Gray.
Prof. Banzahf reviewed the various articles published on this matter and concluded that the tweets "certainly constitute a breach of attorney-client confidentiality, at the very least."
Based on the available evidence, Prof. Banzhaf said it was clear that an attorney-client relationship existed between Trump and Tribe, as Tribe admits Trump sought his legal advice.  Furthermore, the existence of notes from conversation suggests it was a rather extensive discussion, according to Prof. Banzhaf.
He then explained that when a client contacts an attorney for legal advice, the client has an expectation that even the fact he contacted the lawyer will remain confidential.  "It is not up to the lawyer to put himself in the client's shoes to determine whether something should be confidential," Banzhaf said.  "An attorney must assume a legal conversation with a client demands confidentiality, unless or until the client specifically waives the privilege" (or certain circumstances that do not apply here occur).
While Prof. Banzhaf believes it should've been clear to Tribe that this was not even a borderline issue, he was in utter disbelief about the decision to address this matter on Twitter to begin with.
"This is the dumbest thing I've ever heard," Prof. Banzhaf said.  "He is a noted attorney and professor at Harvard where he has many legal colleagues … to help him think through the problem if desired. …The idea that he put it on twitter is absurd."
Prof. Banzhaf was also critical of Tribe's continued attempts to defend his actions, saying, "Subsequently doubling down on this matter makes even less sense."
August 20th 10:45 AM—UPDATE:
After publication, Prof. Tribe reached out to LawNewz.com via email and responded to his critics:
None of the 'experts' to whom you've spoken are in a position to know what they're talking about, because I've kept confidential the very facts anyone would have to take into account in order to opine intelligently about the expectations, both explicit and implicit, of the people on the call in question. The supposed experts you've called could only respond to a bare-bones account that is stripped of the detailed information that I decided to keep confidential when I concluded that, although I was free to reveal more, I wouldn't do so. And if I were to reveal that information, the armchair critics you've consulted would no doubt accuse me of breaching confidentiality. Catch 22!
This is an opinion piece. The views expressed in this article are those of just the author.