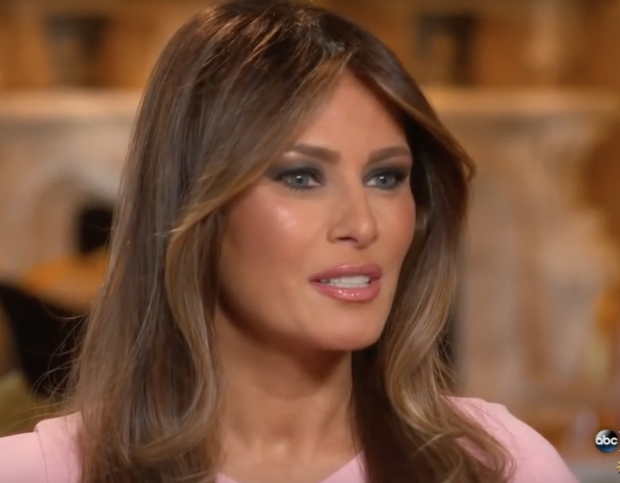 First Lady Melania Trump has abandoned her claim that she planned to cash in on her First Lady "brand" to sell "apparel, accessories, shoes, jewelry, cosmetics, hair care, skin care and fragrance" from her White House perch.
Melania Trump's lawyer, Charles Harder, filed an amended complaint on Friday in her New York libel lawsuit against the Daily Mail, deleting the First Lady's claims that she planned to make millions from her White House fame described in her first version of the lawsuit. But, in this new version, Trump did include the "defamatory" statement from a New York Times reporter who called her a "hooker" earlier this week.
Gone from the new version of the lawsuit are the First Lady's earlier allegations that the Daily Mail's "false" story deprived her of a "once-in-a-lifetime opportunity, as an extremely famous and well-known person … to  launch a broad-based commercial brand in multiple product categories."
But Melania Trump did not drop her claim that she is entitled to $300 million in damages from the online tabloid.  She still seeks $150 million in damages in her defamation claim and an additional $150 million in damages in her claim for intentional infliction for emotional distress.
Harder electronically filed the amended lawsuit with the New York Supreme Court, and a typed notice on the bottom of the lawsuit states that the amended complaint "has not yet been reviewed or approved by the County Clerk."  But plaintiffs have the right to file a first amended complaint and the new filing is likely to be approved by the court clerk.
The First Lady claims that the Daily Mail falsely reported on August 19, 2016 that she worked as an "elite escort" before meeting her husband, then-businessman Donald Trump.
The amended complaint added a new allegation that threatens to drag a New York Times reporter into the case.
The revised lawsuit states that the Daily Mail should be held responsible for every time that someone repeats the "escort" story.  "As one of many examples, on February 12, 2017, New York Times journalist Jacob  Bernstein stated at a business event: 'Melania is a hooker,'" the lawsuit alleges. "Mr. Bernstein apologized publicly only after being confronted about his statement on social media." However, the lawsuit does not name Bernstein or The Times specifically as a defendant.
Melania Trump was publicly ridiculed for saying in her first version of her Feb. 6 libel lawsuit that she planned to seek "multi-million dollar business relationships for a multi-year term during which plaintiff is one of the most photographed women in the world."
Her attorney, Harder, perhaps in an effort to squash some bad PR, quickly released a public statement saying that his client had no concrete business plan to cash in on her White House fame.
"The First Lady has no intention of using her position for profit and will not do so," Harder told LawNewz.com.  "It is not a possibility. Any statements to the contrary are being misinterpreted."
The amended complaint appears to repair Harder's bungle that created a conflict between the first version of the lawsuit and Harder's public statement.
Because Melania Trump is a public figure, she must prove that the Daily Mail published with "actual malice," which means she has to prove that the tabloid published the story knowing the report was false or "with reckless disregard for the truth," the lawsuit alleges.
The new version of the lawsuit adds an allegation that Wikipedia "recently" banned citations to the Daily Mail because Wikipedia editors determined that the publication is "generally unreliable" and has a "reputation for poor fact-checking, sensationalism and flat-out fabrication."
The lawsuit also alleges that the Daily Mail violated the Code of Ethics published by the Society of Professional Journalists, including that reporters be "fair" and "show compassion."
But ethical considerations do not count in public figure/actual malice cases.  Melania Trump must prove with clear and convincing evidence that the Daily Mail reporters knowingly published a report that they knew was false, or they entertained serious doubts about the truth of the report at the time of publication.
The SPJ's ethical rules are aspirational goals developed by some journalists, and are not binding legally. Reporters can be mean-spirited and still be legally protected from public figure lawsuits if they reasonably believe their sources and report are accurate.
President Donald Trump has lost all his libel lawsuits filed in public courts, including his 2006 libel lawsuit against the author and publishers of the book, TrumpNation, because Trump could not prove actual malice.
Susan Seager is a First Amendment lawyer and media law adjunct professor at the University of Southern California in Los Angeles.
[screengrab via ABC News]
Have a tip we should know? [email protected]