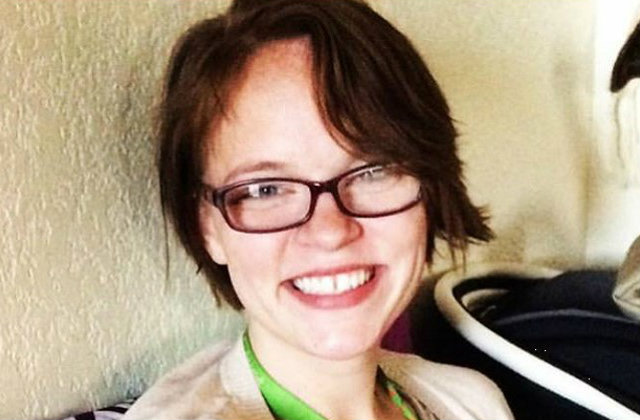 The Boulder Police Department announced on Wednesday that they found missing mother Ashley Mead, but it was too late. Now Adam Densmore, the father of her child, has been arrested for her murder and dismemberment.
Authorities say that Mead was last seen alive on Sunday. She was reported missing on Tuesday after she didn't show up to work. Also missing: her daughter, Winter Mead. The next day, Oklahoma Highway Patrol actually found Densmore and the girl outside of Tulsa. The child was unharmed, and the father arrested on a warrant alleging violating of custody. But he's now being held on suspicion of 1st degree murder after part of Mead's body was discovered.
"There are concerns that some of the victim's body parts may have been discarded in a variety of communities the suspect passed through after the homicide," the BPD said in a statement released Friday. Investigators think she was killed in Boulder, then "at least partially dismembered" outside Shreveport, Louisiana.
They're still figuring out Densmore's alleged travel route. He allegedly wound his way through Boulder to Raton (New Mexico), the Texas panhandle, Haughton (Louisiana), then Conway (Arkansas) before he got cuffed in Oklahoma.
"It is believed that a portion of Ashley Mead's body could be in a purple suitcase," police say. "If anyone sees a suitcase placed in an odd location, they are asked not to touch it and to contact their local police department immediately."
They ask anyone with information to call them at 303-441-1974. Anyone wishing to stay anonymous can call the Northern Colorado Crime Stoppers at 1-800-222-TIPS (8477).
"Tips may also be submitted through the Crime Stoppers website at crimeshurt.com," they say. "Those submitting tips through Crime Stoppers that lead to the arrest and filing of charges on a suspect(s) may be eligible for a cash reward of up to $1,000 from Crime Stoppers."
Have a tip we should know? [email protected]