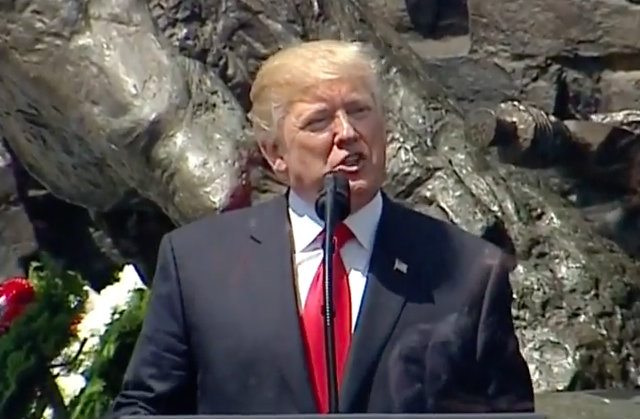 Can President Donald Trump interfere with a merger because he hates CNN? His feud with the outlet probably hasn't peaked. A New York Times report from Wednesday says White House officials have talked about a way to alpha-dog the company, but this suggestion could potentially put them into some murky legal water.
From the article [emphasis ours]:
White House advisers have discussed a potential point of leverage over their adversary, a senior administration official said: a pending merger between CNN's parent company, Time Warner, and AT&T. Mr. Trump's Justice Department will decide whether to approve the merger, and while analysts say there is little to stop the deal from moving forward, the president's animus toward CNN remains a wild card.
To be clear, there's no reporting on a specific plan. There's also no reporting on what conclusion those discussions reached. (LawNewz.com has reached out to the White House for comment.) Nonetheless, it's worth exploring what the White House can and can't do here.
John Coates, a Harvard Law School professor who has done consulting services for the DOJ, told LawNewz.com point-blank that interference would break the law.
"The DOJ has a long and sensible tradition of independence from the White House on enforcement policy, particularly in technical areas such as antitrust enforcement," said Coates, who teaches a course on mergers and acquisitions. "The DOJ has clear enforcement guidelines on how it analyzes mergers for potentially negative effects on competition. Efforts to influence the review on political grounds would be illegal."
This isn't to say that DOJ couldn't stand in the way of a merger, but it might start a messy legal battle. Professor Jeffrey N. Gordon, who teaches a course on mergers and acquisitions at Columbia University Law School, explained how this could play out.
"I think what's important here is that the Justice Department decision is not the last word," he told LawNewz.com. "It's not whether Justice will 'approve' the merger, but whether it will 'challenge' the merger by seeking an injunction to block it."
This could start a legal battle, and its conclusion would depend on what the courts discover about the DOJ's motivation.
"If it can be shown that 'content bias' has influenced the DOJ decision (vs. a genuine competition-based policy concern), a court could well refuse the injunction," Gordon said. "Should Justice challenge the merger, it will be interesting to see whether the proponents seek discovery on this question of 'intent.' The travel ban cases illustrate that courts are sensitive to evidence of invidious intent in the exercise of executive power."
Indeed, both of the president's travel bans have struggled in court. Some judges believed statements by Trump and his spokespeople showed that the executive orders might reveal a unconstitutional motivation behind the executive orders.
So what's going to happen now? We wait and see what happens. Sources close to the merger said it will close within 60 days, according a CNBC report from Thursday. It would be the end of a several month process. In October, AT&T agreed to buy Time Warner for over $85 billion.
For now, the president's feud with CNN will just have to play out in the media. He's been taking shots at the outlet after it retracted a story. The article claimed that the Senate Intelligence Committee was investigating a Trump campaign adviser as part of its investigation into Russia's interference in the 2016 election. On Sunday, the Tweeter-in-Chief posted fan-made video in which he "beats up" the network. Things escalated further over a report about a redditor linked to the footage.
[Screengrab via NBC]
Have a tip we should know? [email protected]