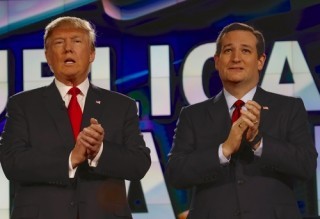 I will start off by saying I have no idea what beans Donald Trump has to spill on Ted Cruz's wife, but if it's the story that is swirling around on the internet, than Mr. Cruz is right when he called Trump a 'coward.'  The Twitter firestorm began last night when Donald Trump wrongly accused the Cruz campaign of disseminating an ad featuring his wife, Melania, posing in the nude.
Lyin' Ted Cruz just used a picture of Melania from a G.Q. shoot in his ad. Be careful, Lyin' Ted, or I will spill the beans on your wife!

— Donald J. Trump (@realDonaldTrump) March 23, 2016
As Mediaite pointed out, that was an ad targeted at Mormons released by the Super PAC Make America Awesome and not the Cruz campaign. Cruz fired back:
Pic of your wife not from us. Donald, if you try to attack Heidi, you're more of a coward than I thought. #classlesshttps://t.co/0QpKSnjgnE

— Ted Cruz (@tedcruz) March 23, 2016
All of the conspiracy theorists chattering on the internet say that the 'beans' that Trump has on Heidi Cruz date back to an incident on August 22, 2005, when the Austin Police Department were dispatched to the side of a road, not far from downtown. There, the officer reportedly found Heidi Cruz sitting just feet from oncoming traffic.  According to a heavily redacted police report obtained by Buzzfeed News , the officer believed Cruz was a "danger to herself," and eventually, Cruz followed him to his patrol car, and they left the area together.
An adviser to Cruz sent a statement last year to Buzzfeed explaining the situation, "About a decade ago, when Mrs. Cruz returned from D.C. to Texas and faced a significant professional transition, she experienced a brief bout of depression. Like millions of Americans, she came through that struggle with prayer, Christian counseling, and the love and support of her husband and family."
First, I'm not even sure how this dredged-up story which circulated all the tabloids is at all newsworthy to begin with. If it involved Mr. Cruz himself, perhaps, it would be fair game because it would go to his mental stability and temperament. It's questionable even then, but, personal details about wives and children should be left out of this political circus. If the roadside incident is the line of attack that Trump is threatening (again, we don't know for sure), Trump would hit a new low.  Attacking someone for a condition that millions of Americans suffer from every year would be truly alarming. I don't think Trump would go there, but, if I told you he would talk about his penis during a debate, you probably wouldn't believe it either. This incident was a private moment where Mrs. Cruz was very vulnerable.
Cruz said on CNN Wednesday morning, "…if Donald wants to get into a character fight, he's better off sticking with me because Heidi is way out of his league."
If these aren't the beans that Trump has to spill, then he should tread carefully because I can't imagine what he has on Heidi Cruz that would be relevant to this upcoming election.
Have a tip we should know? [email protected]
Rachel Stockman - President / On Air Host