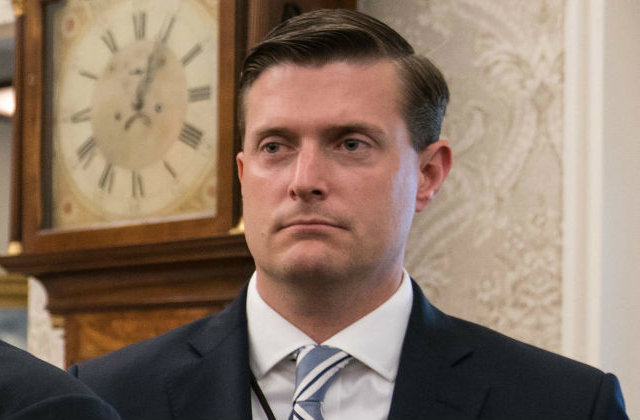 Lawsuits are common enough in the current administration — or at least the threat of them. So, why hasn't former White House Staff Secretary Rob Porter threatened to file one after his ex-wives publicly claimed he verbally and physically abused them, especially if he claims they are lying? This would certainly follow the president's M.O.: in 2016, then-candidate Donald Trump made a still-unfulfilled promise to sue the women who accused him of sexual misconduct. There's plenty of material for Porter to at least draft a complaint. He has already denied the allegations against him, and damages are easy enough to show: He is currently unemployed, and his public reputation is in tatters.
The problem, however, is everything else.
"Porter's case would be weak," said attorney and Law&Crime host Aaron Keller on Friday. "He resigned amid the allegations. Porter also warned the White House that his background check would reveal 'unflattering things' or 'derogatory information' from his previous relationships, according to CBS News. These things, coupled with the volume of allegations from multiple women, would give any attorney hired by Porter pause, as it would be difficult for Porter to claim the falsity of the accuser's statements. I can't picture the fiasco that could result if he sued, given that one of his former partners has images purporting to show injuries from the alleged abuse. Statements aren't defamatory if they're true."
D.C.-area attorney A.J. Dhali, of the law firm Dhali PLLC, had a similar take. He told Law&Crime that if Porter hasn't sued, it's probably because the allegations are true.
"And if so, he will lose in any defamation claim, since truth is a defense to a defamation action," Dhali wrote in an email. "That and the last thing he wants is to drag this out further, since were he to file a lawsuit, it a) subjects him to a deposition under oath and b) compels the defendants to defend their claim, in which case, they may produce even more damaging statements about him in the public. And that is the last thing Porter needs."
Both women–first wife Colbie Holderness and second wife Jennifer Willoughby–laid out their claims during interviews with multiple outlets. The Daily Mail, The Intercept, and others. Holderness supplied pictures showing her with a black eye. Willoughby first made her claims public on social media last April, though she didn't name Porter at the time. In a NBC interview, she said she showed FBI agents evidence of her 2010 protective order and the police calls she made against him. She also told CNN that Porter told her to "downplay" the abuse.
This former White House staffer hasn't done much to fight these allegations, except to say that they're false.
"These outrageous allegations are simply false," Porter said in a statement obtained by Axios. "I took the photos given to the media nearly 15 years ago and the reality behind them is nowhere close to what is being described. I have been transparent and truthful about these vile claims, but I will not further engage publicly with a coordinated smear campaign."
He never supplied a counter-narrative as to how Holderness got that black eye. (An unverified report states that Porter privately told people she sustained it after getting hit with a vase.)
Then there's the possibility that more women could speak out. Holderness and Willoughby told The Daily Mail they were in contact with a woman who said she was Porter's girlfriend. The woman reportedly contacted them in December 2016, asking for advice on how to leave the abusive Porter. Would she play a role in any lawsuit? That's hypothetical. She hasn't stepped forward and is the alleged survivor of domestic abuse, so The Daily Mail declined to name her.
Even if she doesn't get involved, however, there's still so much undermining a hypothetical defamation complaint. The pictures, the protective order, the police phone calls…and of course, the ultimate bar — if the women are telling the truth, he has no case. Is that the reason he ultimately will never sue?
[Image via NICHOLAS KAMM/AFP/Getty Images]
Have a tip we should know? [email protected]