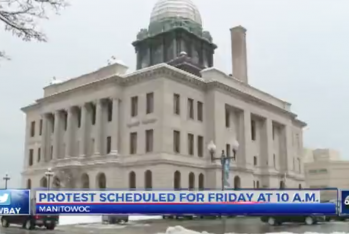 Manitowoc County area officials are making preparations for upwards of several hundred protestors expected to gather near the Manitowoc County Courthouse on Friday, January 29 to hold a rally in support of convicted murderers Steven Avery and Brendan Dassey.
Avery and Dassey, of course, are the central figures in the controversial Netflix's series Making Murderer, which has attracted national attention and brought the small Wisconsin county under a microscope.
Three separate groups of demonstrators are expected to gather in Manitowoc at 10:00 a.m. on Friday, according to local reports.
Kate Stamoulares is a co-organizer for the Facebook group Justice for Steven Avery and Brandan Dassey, said she expects anywhere from 30-100 members of her group to show up, with some traveling from as far away as Oregon and Florida, and they all hope send a message that the criminal justice system needs to be fixed.
A second group –organized on Facebook and led by Megan McGuiness—called The Steven Avery Project also plans to attend the gathering and shares similar feelings about the case as Stamoulares' group. McGuiness told local reporters she expects between 100-400 supporters to travel from all over the country to attend the gathering.
Local Manitowoc resident Kim Geiser organized a third group called We Love Wisconsin, that plans to attend the rally in an effort to clear up misconceptions about the area. Geiser said she and her group members believe the documentary wrongly portrayed her community in a bad light and they hope to show people that they are just normal folks who happened to live in the county where this all happened.
Captain Jason Freiboth with the Manitowoc Police Department told reporters his department if aware of the planned protests and they will be closing streets around the courthouse to make it safe for demonstrators. The Manitowoc Police Department was not involved in any aspect of the Avery or Dassey case because the crimes occurred outside their jurisdiction, in Manitowoc County.
Anyone still planning to join protest that has not already made hotel reservations may find themselves out of luck —  rooms appear to be pretty booked up.
[h/t WBAY; image via screengrab]
Have a tip we should know? [email protected]