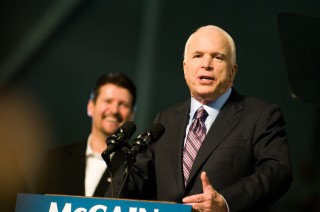 You've seen the image. Three firefighters raising an American flag in the ruins of the World Trade Center on September 11. For the last 15 years, the photo has been used to commemorate that dark day in U.S. history. Just yesterday, Senator John McCain tweeted it with the message, "Never Forget."
In wake of #September11attacks we witnessed the heroism of the American ppl & power of a nation united #NeverForget pic.twitter.com/gAcUp4kGql

— John McCain (@SenJohnMcCain) September 11, 2016
But North Jersey Media Group (NJMG), who claims to own the copyright for the image, has a history of suing people who use it without permission. The company, which publishes many newspapers and magazines, claims that one of their employees took the photograph. Cornell Law Prof. William Jacobson's 'Legal Insurrection' blog says that NJMG has taken legal action against a number of organizations for selling items bearing the image without permission, but they also sued Sarah Palin for putting it on her website.
In 2013, NJMG sued Palin and SarahPAC, claiming that the former Alaska Governor posted the image on her website. While Palin wasn't selling anything with the photo, the complaint alleges that it somehow aided her in fundraising. Court filings show that Palin's attorneys claim that a settlement agreement had been reached, but NJMG denied it, according to Jacobson.
But what about Palin's former running mate, McCain? Could he be NJMG's latest target for the tweet? Maybe, maybe not. McCain isn't using it on his website, he only posted it on Twitter with a simple message on the anniversary of the event on which it was taken. Then again, Palin wasn't accused of doing much more than that. But NJMG claimed that Palin put her own logo on the image, which McCain did not do. Not only that, but NJMG said that they asked Palin to take the image down, and only sued once she ignored their request. So even if they did go after McCain, they'd probably back off if he deleted the tweet.
Of course, this is besides the fact that it would be in horribly poor taste to sue a Senator who was recognizing American heroism without seeking financial gain. Good luck getting a jury to side with you on that one
[Image via mistydawnphoto/Shutterstock]
This is an opinion piece. The views expressed in this article are those of just the author.