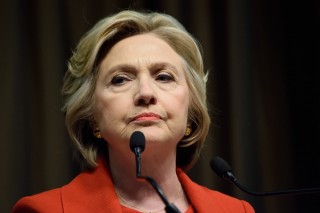 On Sunday morning, Democratic presidential candidate Hillary Clinton left a September 11 memorial ceremony in New York City after about 90 minutes, with video showing her stumbling towards a car that took her to her daughter Chelsea's apartment. The Clinton camp said at the time that she was overheated after standing outside for the memorial, but there was speculation over whether there might be a more serious issue.
As it turns out, there was.
Hillary Clinton 9/11 NYC pic.twitter.com/q9YnsjTxss

— Zdenek Gazda (@zgazda66) September 11, 2016
Clinton's doctor, Lisa Bardack, said in a statement that the former Secretary of State was diagnosed with pneumonia on Friday. Clinton had left her daughter's apartment and went to her home in Chappaqua, where Bardack treated her. "While at this morning's event, she became overheated and dehydrated. I have just examined her and she is now re-hydrated and recovering nicely," the doctor said on Sunday.
There has long been speculation over Clinton's health, from a coughing fit she suffered during a speech at a campaign event, to a blood clot she had between her brain and skull a few years ago. What was once dismissed as a wild notion is now starting to turn into a legitimate issue: is Hillary Clinton physically able to hold office, and is it possible that she may be forced to drop out?
Now, it's still purely speculation, but should a presidential candidate drop out, the Democratic National Committee has rules in place to handle the situation. Article 2, Section 7 of the DNC Bylaws says that if there is a vacancy on the national ticket, a special meeting of the Committee " shall be held on the call of the Chairperson," where they would choose a new candidate. Such meetings make decisions based on a majority of those in attendance.
But what about if she has to withdraw after the election takes place, but before she is sworn in? Well, if a candidate withdraws after the general election, but before the electoral college meets, federal law says that electors can vote for whomever they want, although states can pass their own laws on the matter.
However, should a candidate win the election, but become incapacitated prior to the inauguration, then Section 3 of the 20th Amendment kicks in, according to the Office of the Federal Register. The 20th Amendment says that in such a scenario, the Vice President-elect would become President.
[Image via Evan El-Amin/Shutterstock]
This is an opinion piece. The views expressed in this article are those of just the author.