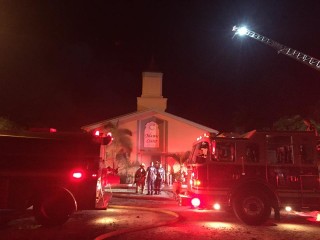 Investigators say that the mosque where Orlando nightclub shooter Omar Mateen used to pray was the target of arson. A fire broke out at the Islamic Center of Fort Pierce early Monday morning, and authorities say it was set on purpose. No one was hurt.
Major David Thompson of the St. Lucie County Sheriff's Office told reporters, "Evidence has revealed that this fire was set intentionally." Thompson said that surveillance video showed someone approach the building before a flash went off, resulting in the blaze. The unidentified suspect then fled from the scene. A 911 call reported the incident at 12:31am.
The Sheriff's Office released surveillance footage Monday afternoon. Thompson hoped that making the video public may lead to identifiying the suspect.

Leaders at the mosque said that they have received threats since the shooting at the Pulse nightclub, and that they have bolstered their security. Lately, however, things had been peaceful there, according to Thompson. There is no indication as to whether the fire had anything to do with September 11 or the Muslim Eid holiday. Their Facebook page instructed members to another location for Eid prayers.
Thompson said that the Sheriff's Office has requested assistance from the Federal Bureau of Alcohol Tobacco and Firearms and the FBI.
This article has been updated to include the surveillance video released by the St. Lucie County Sheriff's Office.
[Image via St. Lucie County Sheriff's Office]
Have a tip we should know? [email protected]