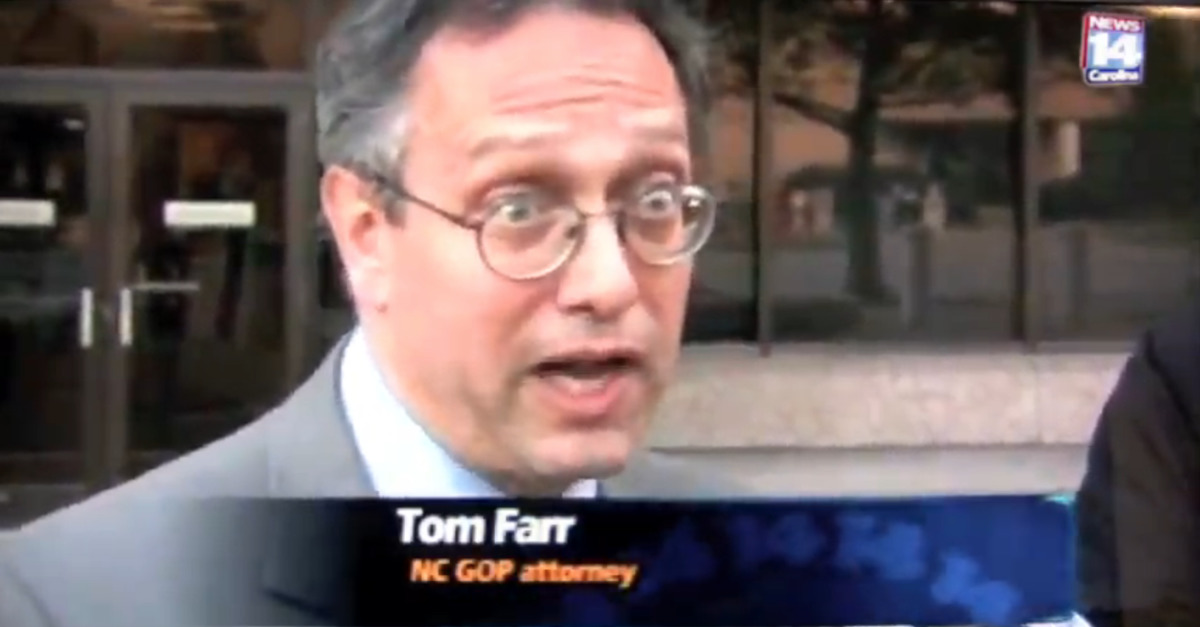 President Donald Trump's extremely controversial judicial nominee for an open seat on the U.S. District Court for Eastern District of North Carolina, Thomas Farr, narrowly survived a cloture battle on Wednesday afternoon and is now set to receive a final vote in front of the full U.S. Senate on Thursday. Farr's fate hinged on Vice President Mike Pence casting the tie-breaking vote–a first in U.S. history for a federal judgeship–after all 49 current Democratic Party senators along with outgoing Republican Senator Jeff Flake voted against moving Farr forward. The final undecided was South Carolina GOP Senator Tim Scott of South Carolina, who was heavily lobbied by his colleagues on both sides of the aisle before ultimately falling in line.
Yet even calling the would-be judge an "extremely controversial" nominee tends to undersell the nature of organized opposition to Farr receiving a lifetime appointment to the federal bench–he's been nominated several times before and gone nowhere each time. The National Association for the Advancement of Colored People (NAACP) of North Carolina once called Farr "a product of the modern white supremacist machine." Here's what you need to know about he got such a reputation.
1. Farr previously worked for notoriously racist Republican senator Jesse Helms.
The 1990 Senate race between Jesse Helms and Harvey Gantt, Charlotte's first-ever African-American mayor, was a surprisingly close affair. The polls eventually tightened and incumbent Helms sensed trouble. To ensure victory, the Helms campaign ran one of the most controversial and race-baiting ads in U.S. history.
Titled, "Hands," the ad featured a pair of white hands assessing and then angrily balling up a job rejection letter. The ad itself criticized Gantt for supporting affirmative action and accused the mayor of supporting "Ted Kennedy's racial quota law," while noting that Helms opposed it.
"You needed that job and you were the best qualified," a narrator's voice intoned with great pathos over ominous synthesizer music. "But they had to give it to a minority because of a racial quota. Is that really fair?"
Farr served on the Helms campaign as legal counsel at the time–and Civil Rights advocates have never forgotten.
2. Farr may have lied to the Senate about his work for Jesse Helms.
The race-baiting advertisement wasn't quite the extent of Helms' racial controversies during his 1990 re-election campaign. In an open letter expressing concern about Farr's "integrity and honesty," People for the American Way detailed the episode in question:
Thomas Farr appears to have misled the Senate about his role in a notorious scheme to confuse and intimidate African-American voters in North Carolina. In 1990, the Jesse Helms for Senate Campaign sent over 100,000 postcards to mostly African-American voters, suggesting that they were ineligible to vote and could be prosecuted for casting a ballot. The Justice Department sued the campaign for violating the Voting Rights Act of 1965. Farr represented the campaign and negotiated a consent decree to resolve the case.
Senator Dianne Feinstein (D-CA) recently brought up this incident by way of a written questionnaire after President Trump re-nominated Farr in late 2017. "Did you provide any counsel, or were you consulted in any way, about the content of or the decision to send these postcards?" Feinstein asked. Farr replied "No." and later told Senator Dick Durbin (D-IL) that he was horrified to learn about the postcard disenfranchisement scheme.
But that doesn't appear to be true.
The aforementioned Department of Justice (DOJ) lawsuit made reference to an attorney who was part of the voter disenfranchisement scheme, according to former DOJ attorney J. Gerald Hebert–and that attorney was Farr. The NAACP Legal Defense and Education fund later noted that Hebert said Farr "was certainly involved in the scheme as it was being developed."
And according to the North Carolina Indy Week, Hebert's "handwritten, contemporaneous notes" indicate that Farr actively took part in the meeting that brainstormed the postcard idea and that Farr himself determined the Helms team should send the postcards to primarily black and Democratic voters.
3. More recently, Farr has worked to protect North Carolina's controversial voter ID laws.
In 2013, North Carolina enacted one of the most restrictive voter ID laws in the country. Farr helped the Tar Heel State's Republican legislature draft this law and later defended it in court. On July 29, 2016, in a decision hailed by voting rights activists, the Fourth Circuit Court of Appeals overturned the bill, HB 589, as unlawful because it violated Section II of the Voting Rights Act as well as the Fourteenth Amendment's Equal Protection Clause.
The court noted the explicitly racist nature of the law when striking it down:
In response to claims that intentional racial discrimination animated its action, [North Carolina and Farr] offered only meager justifications. Although the new provisions target African Americans with almost surgical precision, they constitute inapt remedies for the problems assertedly justifying them and, in fact, impose cures for problems that did not exist. Thus the asserted justifications cannot and do not conceal the State's true motivation. "In essence," as in League of United Latin American Citizens v. Perry (LULAC)… "the State took away [minority voters'] opportunity because [they] were about to exercise it." As in LULAC, "[t]his bears the mark of intentional discrimination."
While defending HB 589, Farr took great umbrage at the accusations of racism, saying, "I strongly deny that the legislature engaged in intentional discrimination. It was not a nefarious thing." Farr and North Carolina then appealed the law to the Supreme Court. During this part of the battle, Farr said, "The [Fourth Circuit's] decision insults the people of North Carolina and their elected representatives by convicting them of abject racism."
The Supreme Court disagreed and refused to hear the case.
[image via screengrab/News 14 Carolina]
Follow Colin Kalmbacher on Twitter: @colinkalmbacher
Have a tip we should know? [email protected]