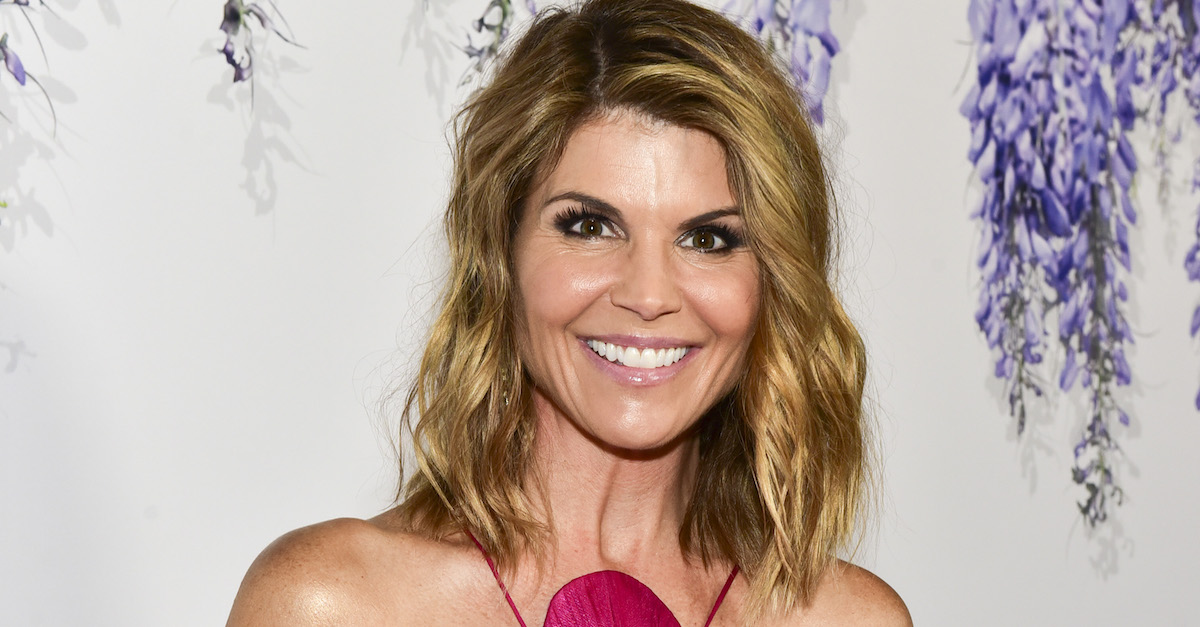 Charges are in the offing for dozens of individuals allegedly involved in a college entrance exam scam so massive that it's being called the "largest college admissions scam ever prosecuted by the Department of Justice." Two of the individuals named in charging documents happen to be Hollywood actresses Felicity Huffman and Lori Loughlin, of Desperate Housewives and Full House fame, respectively.
The feds say that Huffman and Loughlin are just two of 50 people implicated in a cheating scheme that spanned the nation, at such hallowed institutions as Stanford, USC, Yale, the University of San Diego, the University of Texas, UCLA, Wake Forest, and Georgetown.
While there has not been any indication that the schools were aware of what's going on, Huffman and Loughlin are accused of knowing exactly what was happening.
NBC News' Tom Winter reported that the court documents said the FBI recorded calls on which Huffman, Loughlin, and a "cooperating witness" discussed the scheme.
Huffman is accused of making a "purported charitable contribution of $15,000…to participate in the college entrance exam cheating scheme on behalf of her eldest daughter. Huffman later made arrangements to pursue the scheme a second time, for her younger daughter, before deciding not to do so," per NBC.
Loughlin, it is alleged, similarly "agreed to pay bribes totaling $500,000 in exchange for having their two daughters designated as recruits to the USC crew team — despite the fact that they did not participate in crew — thereby facilitating their admission to USC."
They allegedly paid a man who ran an operation in California that helped students get into schools of their choice. Authorities said during a press conference on Tuesday that William Rick Singer is pleading guilty to a racketeering conspiracy. They say he used his charity organization "The Key Worldwide Foundation" to amass $25 million in bribes from privileged parents from 2011-2018. He used this money to bribe officials at college institutions, individuals with access to SAT/ACT scores, or individuals who could take these exams in place of prospective students to ensure that his clients would get into the schools of their choice.
So far, 33 parents have been charged, U.S. Attorney for the District of Massachusetts Andrew Lelling announced. University athletic coaches, college exam administrators, CEOs and actresses were all implicated. Fifty people from six states on both U.S. coasts were charged on Tuesday.
Here are the names of the individuals charged by information: William Rick Singer, Rudolph "Rudy" Meredith, Mark Riddell, John Vandemoer. The charges, respectively: Racketeering conspiracy, money laundering conspiracy, conspiracy to defraud U.S., obstruction of justice; conspiracy to commit wire fraud and honest services wire fraud, honest services wire fraud; conspiracy to commit mail fraud and honest services mail fraud, conspiracy to commit money laundering; and conspiracy to commit racketeering.
Those charged with conspiracy to commit racketeering: Igor Dvorskiy, Gordon Ernst, William Ferguson, Martin Fox, Donna Heinel, Laura Janke, Steven Masera, Ali Khorshroshahin, Jorge Salcedo, Mikaela Sandord,  Jovan Vavic. David Sidoo was also mentioned among these names because he, like them, was charged by indictment. He's charged with conspiracy to commit mail and wire fraud.
Those charged by complaint with conspiracy to commit mail fraud and honest services mail fraud: Gregory Abbott, Marcia Abbott, Gamal Abedelaziz, Diane Blake, Todd Blake, Jane Buckingham, Gordon Caplan, Michael Center, I-Hsin "Joey" Chen, Amy Colburn, Gregory Colburn, Robert Flaxman, Mossimo Giannulli, Elizabeth Henriquez, Manuel Henriquez, Douglas Hodge, Felicity Huffman, Agustin Hunees, Bruce Isackson, Davina Isackson, Michelle Janavs, Elisabeth Kimmel, Marjorie Klapper, Lori Loughlin, Toby McFarlane, William McGlashan, Marci Palatella, Peter Jan Sartorio, Stephen Semprevivo, Devin Sloane, John Wilson, Homayoun Zadeh, Robert Zangrillo.
"There will not be a separate admissions system for the wealthy. And there will not be a separate criminal justice system either," Lelling said.
"Operation Varsity Blues" was executed by more than 300 FBI agents.
Nationwide College Cheating Scam Complaint by Law&Crime on Scribd
[Image via Rodin Eckenroth/Getty Images]
Have a tip we should know? [email protected]