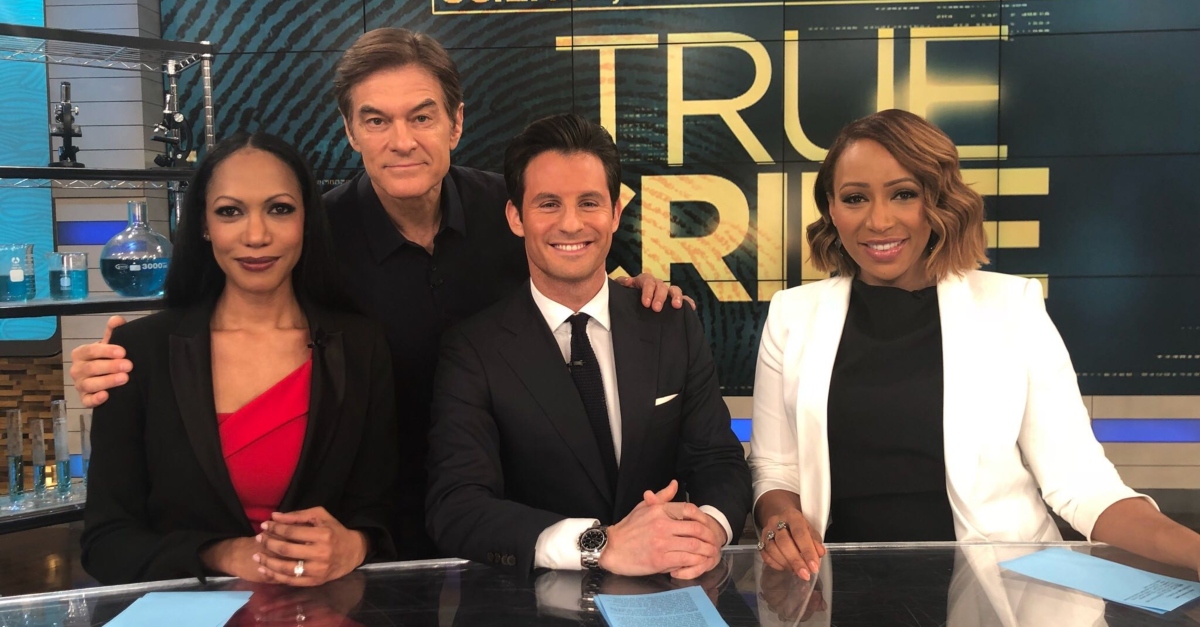 NEW YORK, NY – March 12, 2019 – Law&Crime, the only 24/7 linear and OTT live trial network announced a broad content partnership with The Dr. Oz Show, the ten-time Daytime Emmy award-winning syndicated daily television talk series broadcast throughout the U.S.
The announcement comes as Law&Crime continues a major distribution expansion in both the domestic and international markets. In February, the network achieved a record of more than 50 million cross-platform minutes viewed.
Law&Crime's legal experts will now be joining Dr. Oz on his program regularly to offer analysis and commentary on some of the nation's most captivating cases. The syndicated show will also be using video content from ongoing trials covered on the live Law&Crime Network. The debut episodes of the partnership have included Law&Crime hosts Heather Hansen and Jesse Weber discussing high profile cases covered on the network.
"We are thrilled to partner with The Dr. Oz Show as they continue to delve into fascinating true crime stories," said Law&Crime President Rachel Stockman. "Our legal experts and correspondents have the unique ability to break down the most fascinating cases, and explain the legal realities behind the cases."
"Law&Crime is the perfect partner for The Dr. Oz Show as we continue to become a trusted source and growing platform in true crime programming. Their experts add informational value and unique perspective to our featured cases and we look forward to developing more together," said Amy Chiaro, Executive Producer of The Dr. Oz Show.
Viewers can watch the Law&Crime Network content regularly on The Dr. Oz Show's True Crime Tuesdays and True Crime Thursdays segments nationwide. Check local listings for station and time information.
About Law&Crime
From the high-profile cases to the most compelling local trials, Law & Crime is the only 24/7 linear and OTT network offering daily live trial coverage and expert legal commentary and analysis. Created by TV's top legal commentator and attorney, Dan Abrams, Law&Crime is dedicated to exploring the always intriguing world of the law while also offering original crime stories and legal programs to a broad, multi-platform audience.
About The Dr. Oz Show
Currently in its tenth season, the ten-time Daytime Emmy® award-winning syndicated daily series The Dr. Oz Show is hosted by Dr. Mehmet Oz, accredited health expert, best-selling author, and world renowned cardiac surgeon. The Dr. Oz Show is an informative hour that offers audiences the opportunity to learn about a wide range of health and wellness topics.
Tackling the balance of mind, body and spirit, Dr. Oz calls on specialists from a variety of disciplines for expert advice on how viewers can be their best selves.
Dr. Oz served as health expert on The Oprah Winfrey Show from 2004 to 2009. Sharing advice with viewers to help them live their best life from the inside out. Dr. Oz has co-authored eight New York Times Best Sellers including "Food Can Fix It" "YOU: The Owner's Manual" as well as the award winning "Healing from the Heart". He has a regular column in O, The Oprah Magazine.
Dr. Oz is an Attending Physician at NY Presbyterian-Columbia Medical Center and performs dozens of heart operations annually. His research interests include heart replacement surgery, minimally invasive cardiac surgery, complementary medicine and health care policy. He has authored over 400 original publications, book chapters, and medical books and has received several patents.
Cleared in over 99% of the country, The Dr. Oz Show is produced by Zoco Productions and distributed by Sony Pictures Television. The Dr. Oz Show is executive produced by Amy Chiaro and co-executive produced by Stacy Rader and Laurie Rich.
[Image via Dr. Judith Joseph]
Have a tip we should know? [email protected]