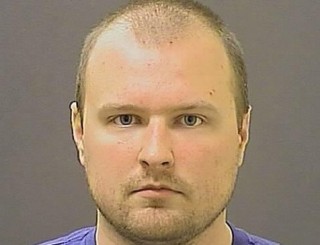 The trial of Officer Edward Nero continued on Monday, and the prosecution called the last of their witnesses in their case against the Baltimore police officer for the death of Freddie Gray, WBAL reported. Gray died while riding handcuffed and without a seat-belt in the back of a police vehicle. The six officers involved in Gray's arrest are each facing charges in separate trials. Nero's case is being heard by Judge Barry Williams in a bench trial, which means that Judge Williams will decide the verdict instead of a jury.
Officer Garrett Miller took the stand on Monday, in what the Baltimore Sun says may be the first time in state history that a criminal defendant was compelled to testify against a co-defendant. Miller is also facing charges for Gray's death, with a trial scheduled for July. Miller's testimony in Nero's trial will not be used against him in his own trial, the Sun reported.
Miller testified that he and Nero were on bicycle patrol when Lt. Brian Rice notified them of a foot chase. He and Nero then joined the pursuit and helped apprehend Gray. Miller said it was he, himself,  who placed Gray in handcuffs. He testified that Nero helped Gray look for his inhaler at the vehicle's first stop before going to the station, and at a second stop he helped Rice place Gray back in the police transport vehicle. Nero's attorney, Marc Zayon, had previously said that Nero only touched Gray when helping him find the inhaler.
Prior to Miller's testimony, Dr. Carol Allan, the assistant medical examiner who took Gray's autopsy, took the stand and said that Gray's injuries were similar to a diving injury. Expert witness Philip McGowan, a bio-engineer, then said that the injuries appeared to be the result of being on the floor of the van during a sudden stop, or from Gray possibly standing up. The defense asked McGowan if the injuries would have been prevented if Gray had been wearing a seat-belt, but McGowan did not confirm that they would have been.
The prosecution rested after Miller's testimony. The defense moved for an acquittal right then and there, and Judge Williams said no. The defense then began calling their witnesses, starting with former Police Chief Timothy Longo. Longo testified that seat-belting an arrested person is the responsibility of the van's driver.
With the defense already presenting its case, reports say that the trial may be finished and a verdict could be reached as early as Wednesday. Stay with LawNewz.com for continuing coverage of the case.
[screengrab via Baltimore Sun]
Have a tip we should know? [email protected]