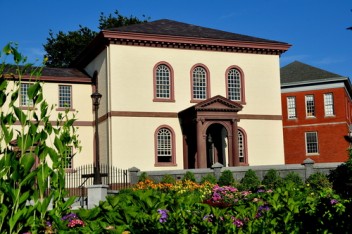 A federal judge issued his ruling on Monday in a legal battle between congregants of the nation's oldest synagogue, Touro Synagogue, and the nation's oldest Jewish congregation, Shearith Israel New York City.  At stake was not only ownership and control of the 250-year-old synagogue, but also a two pairs of ceremonial bells worth millions.
U.S. District Court Judge Jack McConnell, who held a nine-day trial on the matter last year, ruled the Touro Synagogue, built is 1763, is rightfully owned by the Newport Congregation Jeshuat Israel, not Shearith Israel New York City.  Judge McConnell also ruled the two pairs of ceremonial bells, called rimonim, are property of the Newport congregation.  In 2012, one set of the bells were valued at $7.4 million.
The Associated Press reports Judge McConnell's opinion relied on documents dating back to the Colonial period, and his decision was based on his interpretation of the intention of those that founded the synagogue just over 250-years-ago.
"The central issue here is the legacy of some of the earliest Jewish settlers in North America, who desired to make Newport a permanent haven for public Jewish worship," Judge McConnell wrote, according to the AP.
The report also describes the opinion as reading like a history book at times, recounting "the early history of Jews in America and [tracing] the origins of the Jews who populated Newport beginning in 1658."
By the 1820s, there were no Jews left in Newport — many having moved to New York City during the Revolutionary War, according to the report.  As a result, Congregation Shearith Israel became trustee of the Touro Synagogue.  As Jews retuned to Newport over the decades, Shearith Israel returned items to the Touro Synagogue, including two pairs of the ceremonial bells that were made by a Jewish silversmith named Myer Myers.  The report says the two congregations essentially stayed out of each others affairs by the 2000s.
In 2012, the leaders of the Newport congregation reached a deal to sell one set of the ceremonial bells to the Museum of Fine Arts in Boston for $7.4 million. The congregation was facing financial difficulties and planned to use the funds to start an endowment, according to the report.  Shearith Israel, citing its role as trustee, claimed ownership of the bells in an attempt to block the sale.  Thus, the lawsuit was born.
Shearith Israel's lawyer, Deming Sherman, told the AP it was too early to say whether they would appeal.
"We're obviously disappointed at some of the findings by the court. But I don't have any more to say until after I've reviewed the decision," Sherman said.
The ultimate fate of the bells is also up in the air.  The Museum of Fine Arts withdrew its offer to purchase them after the lawsuit was filed.
[image via shutterstock]
Have a tip we should know? [email protected]