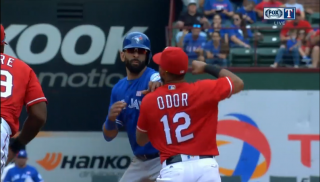 Baseball definitely has its share of physicality, whether it's an occasional collision in the outfield or a slide into the catcher.  However, there are moments like Rougned Odor's brawl with Jose Bautista on Sunday that call into question what is permissible behavior in baseball and why it's time for Major League Baseball to create a new rule about player safety.
Jose Bautista of the Toronto Blue Jays has had some history with the Texas Rangers.  Most notably, during last year's baseball playoffs, Bautista hit a crucial home run that helped the Blue Jays advance to the American League Championship Series.  Jose Bautista's home run came with theatrics though.  After hitting the home run, Bautista stood in the batter's box and emphatically flipped his bat as he began jogging the bases.  Many people loved the bat flip, but others have hated it.  The act of "bat-flipping" has even drawn some debate by many in the baseball community.  Needless to say, it was Bautista's bat flip nearly 6 months ago that sparked Sunday's fight with Odor.
During the 8th inning of Sunday's Blue Jays-Rangers game, Bautista was hit by a pitch that put him on base.  In that same inning, he was called out at second base during an attempted double play. However, Bautista slid late into second.  Rangers second baseman Rougned Odor was not having any of it, so he punched Bautista right in the jaw, causing both benches to clear.  Odor and Bautista were 2 of 6 players ejected from the game because of this fight.
This is not Odor's first time inciting on-field violence.  In 2011, during a minor league baseball game, Odor punched two players after he slid late into second base.  Odor was subsequently ejected from that game and was suspended 4 games for his on-field violence.
We now live in a culture where player safety is first and foremost.  We have seen this in its fullest form with the NFL concussion litigation.  A class with thousands of plaintiffs sued the NFL after the league allegedly failed to properly warn players of the dangers of concussions.  A settlement is pending but this lawsuit has certainly caused the NFL to be more cognizant of player safety.  Sure enough, the NFL has implemented healthy and safety standards to ensure that players are properly treated and cared for and to ensure that the NFL gameplay does not grossly exceed how it should be played. The NFL has even sanctioned players who have performed incredible hard-hitting plays that have concussed or otherwise injured another player.
The NHL has also made player safety a priority.  Created in 2011, the NHL Department of Player Safety focuses on developing rules to better protect NHL players without compromising the nature of NHL gameplay.  The NHL's Department of Player Safety punishes players who perform conduct that exceeds how an NHL game is usually played, whether it's a blind hit from behind or excessive force against an opposing player.
Baseball seems to be a different story. There are many "unwritten rules" about playing the game.  For example, if a batter is hit by a pitch in a game that matters, such as a playoff game, chances are that the opposing team's pitcher will retaliate by throwing a pitch at the opposing team's batter.  Baseball fights have also been very much a part of the sport for decades.  Yet, as much as these antics are germane to the sport, throwing a punch in the way Rougned Odor did is absolutely uncalled for.  Sure, Bautista instigated him, but a push and shove was enough.  Fist-fighting of this sort exceeds how a baseball game should be played.  And frankly, the way Bautista took that hit, I'm surprised he was able to get up.  And, I wouldn't totally eliminate the possibility that he suffered a concussion as a result of Odor's hit.
Rougned Odor and even Jose Bautista should have to be held accountable for their actions.  As bad as Jose Bautista's late slide was, Odor's hit was worse.  Both will likely be subject to discipline under the MLB Collective Bargaining Agreement Article 12.  MLB discipline is handled on a case-by-case basis so I'm uncertain what type of suspension is in store for Bautista and Odor.  I would expect at least a 2-game suspension for Bautista for his late slide.  MLB suspended Dodgers second baseman Chase Utley for similar behavior during last year's National League Division Series against the New York Mets. As for Odor, even if his act had a shred of justification, I think a 4-game suspension would be appropriate.
Needless to say, it's time for the league to implement additional rules concerning player safety.  I'm not overreacting or being a "wuss."  I'm making a plea to make baseball a safer sport.  Things certainly could have gotten worse in the fight between Odor and Bautista though I'm glad they didn't.
MLB has made some efforts to make baseball safe, such as creating rules on home plate collisions and slides into second base.  But, these rule modifications are insufficient.  There needs to be more.  MLB, like the NFL and the NHL, has a duty to ensure the safety of its players.  I believe this duty extends to creating clear rules that illustrate what are the "do's" and "don'ts" of the game. As much as it's part of the culture of baseball, the game can't go rogue, especially in a time when we're actually aware of a player's health, safety, and well-being.
With the MLB collective bargaining agreement set to expire at the conclusion of the 2016 season, this offseason would be the optimal time for the league and the MLB Players' Association to come together at the bargaining table and discuss this matter.  Until then, we can only hope that gameplay of this sort doesn't happen again or get worse.
Tony Iliakostas is a sports law contributor for LawNewz.  He is the founder and host of his own sports law video blog called "Law and Batting Order."  You can follow Law and Batting Order on Facebook and Twitter, and you can follow Tony on Twitter.
[screengrab via Fox Sports]
Have a tip we should know? [email protected]