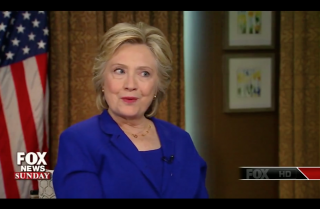 Hillary Clinton finally answered questions under oath about her use of a private email system during her tenure as Secretary of State but was unable to recall specific details in 21 of the 25 questions.  Her inability to recall so many details surrounding the controversy is reminiscent of the convenient memory loss that seemed to affect several of her top aides who were previously forced to testify under oath about the email system.
Earlier this year, a federal judge ordered Clinton to respond, under oath, to written questions as part of an ongoing Freedom of Information Act (FOIA) lawsuit filed by the government watchdog group Judicial Watch.
Judicial Watch sought answers to 25 questions, covering several topics from the creation of the email system to record keeping practices at the State Department.
"We're pleased that we now have a little bit more information about Hillary Clinton's email practices," Judicial Watch President Tom Fitton said in a statement obtained by LawNewz.com. "Our lawyers will be reviewing the responses closely. Mrs. Clinton's refusal to answer many of the questions in a clear and straightforward manner further reflects disdain for the rule of law."
As you can probably tell from Fitton's response, there are no major surprises in her written answers to Judicial Watch's interrogatories.  She either offered a litany of objections or could not recall many details in nearly all of the questions.  Any answers were limited at best, similar to how she seemed to approach her interview with FBI investigators back in July.  Although, that would be expected considering her legal team was surely consulted and played a role in drafting the replies.
In response to a question about whether Clinton was warned about record keeping issues the private server, the court filing states:
Secretary Clinton states that she does not recall being advised, cautioned, or warned, she does not recall that it was ever suggested to her, and she does not recall participating in any communication, conversation, or meeting in which it was discussed that her use of a clintonemail.com e-mail account to conduct official State Department business conflicted with or violated federal recordkeeping laws.
Throughout the court filing, Clinton also repeated previous claims that she believed her emails would be captured as federal records by simply sending them to co-workers on their state.gov accounts —  a practice the State Department Inspector General determined was improper in a scathing report released earlier this year.
She also could not "recall being advised, cautioned, or warned during her tenure as Secretary of State about hacking or attempted hacking of her clintonemail.com e-mail account or the server that hosted her clintonemail.com account."
Clinton campaign spokesman Brian Fallon released a statement that said Clinton "has already answered these same questions in multiple settings for over a year."  He also dismissed the matter as a "frivolous lawsuit" and "just [Judicial Watch's] latest failed attempt to hurt [Clinton's] campaign for the Presidency."
[Image via screengrab]
Have a tip we should know? [email protected]