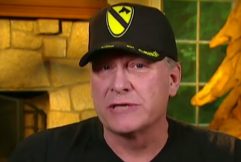 In September, the State of Rhode Island reached a $2.5 million settlement in their lawsuit against former Major League pitcher Curt Schilling and his business associates over video game developer/publisher 38 Studios. That's been undone. The company has been accused of withholding information concerning a $75 million loan, and this dispute may go to trial in January.
Schilling started this business, formerly known as Green Monster Games, during the tail-end of his career pitching for Major League Baseball teams like the Boston Red Sox.
In 2010, he reportedly promised Rhode Island that he'd move 38 Studios to the state in return for the $75 million loan. The company truly established itself with 2012's Kingdoms of Amalur: Reckoning. This game got a multi-platform release, and consensus was that it was good. A new company on to a great start—and it went defunct that same year, filing for bankruptcy and thereby sparking state and federal probes amid allegations surrounding the loan.
We've reached out to Schilling for comment, and will update after he responds.
[Screengrab via Fox News]
–
Follow Alberto on Twitter (@Alberto Luperon)
Have a tip we should know? [email protected]