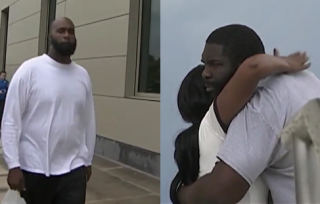 Two assistant football coaches at Titusville High School in Florida were arrested on Wednesday for allegedly running a drug ring, the Orlando Sentinel reported. Leonard Charles "Chuck" Agee Jr., 40, who is also a track coach and teaching assistant, is accused of running the operation. Benjamin Jenkins, 36, allegedly assisted. They allegedly trafficked in marijuana and cocaine, and sold various drugs. They are not accused of selling to minors.
The investigation began in September 2015, and from that point, informants reportedly purchased heroin, fentanyl, cocaine, marijuana and prescription pills from Agee and Jenkins. They told buyers that the fentanyl was actually oxycodone, and it was packaged to look like it, but lab tests proved otherwise, Jeffrey T. Walsh of the Drug Enforcement Administration said.
While the investigation had been going on since September, Titusville Police Chief John Lau said that the school district was not notified until Wednesday morning. Walsh said the operation was monitored to make sure sales were not made on school property.
The school district said in a statement, "[Agee and Jenkins] have been placed on administrative leave pending termination recommendation to be approved at the regularly scheduled July 19, 2016 School Board Meeting."
Three other individuals who were not school employees were also arrested on charges related to the case.
Have a tip we should know? [email protected]