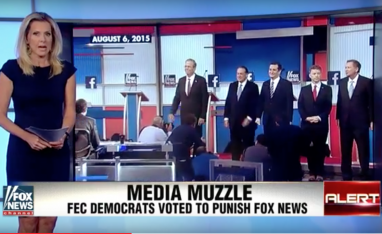 Democrats on the Federal Election Commission have reportedly voted to take regulatory action against Fox News over its decision to hold a second "undercard" debate back in August 2015.  The vote is said to be the first time the FEC has ever voted to punish a media outlet for sponsoring a debate.  The move was successfully blocked by the three Republican commissioners on the FEC, one of whom is speaking out and calling the move the latest example of the Democrats attempts to punish conservative media outlets.
The initial complaint was filed by a Republican presidential candidate named Mark Everson, a former IRS Commissioner during the George W. Bush administration, after he was not invited to participate in either debate.  The complaint alleged the by adding the "undercard" debate Fox News had essentially made an illegal campaign contribution to the seven candidates by providing them with the televised forum.
The Washington Examiner, which first broke the story,  reports during a closed executive session meeting in May Democratic FEC Commissioners Ann Ravel, Ellen Weintraub and Steven Walther voted in favor of finding Fox News had made an illegal contribution by deciding to hold the debate.
WATCH:
According to Fox News, Commissioners Ravel and Walther also voted in favor of punishing the network, but Weintraub along with the three Republican commissioners voted to dismiss the matter without taking further action.
Republican commissioner Lee E. Goodman provided details of the vote to the Washington Examiner on Wednesday, saying, "All press organizations should be concerned when the government asserts regulatory authority to punish and censor news coverage."
Goodman also expressed frustration with what he reportedly sees as an anti-conservative media agenda on the part of the Democratic commissioners.
"Astonishingly, three FEC commissioners (Weintraub, Ravel, Walther) concluded that Fox News violated the Federal Election Campaign Act by making a prohibited corporate contribution to the 7 candidates invited to the debate. That is, by expanding the debate format to a broader group of candidates, Fox News violated the law," Goodman said.
He added, "Commissioners Petersen and Hunter and I voted to free Fox News' editorial judgments from the FEC's regulatory jurisdiction under the Free Press Clause of the Constitution and the Press Exemption in the Federal Election Campaign Act."
A full report on the matter is expected to be released on Thursday and LawNewz.com will provide an update as soon as we obtain a copy.
Have a tip we should know? [email protected]