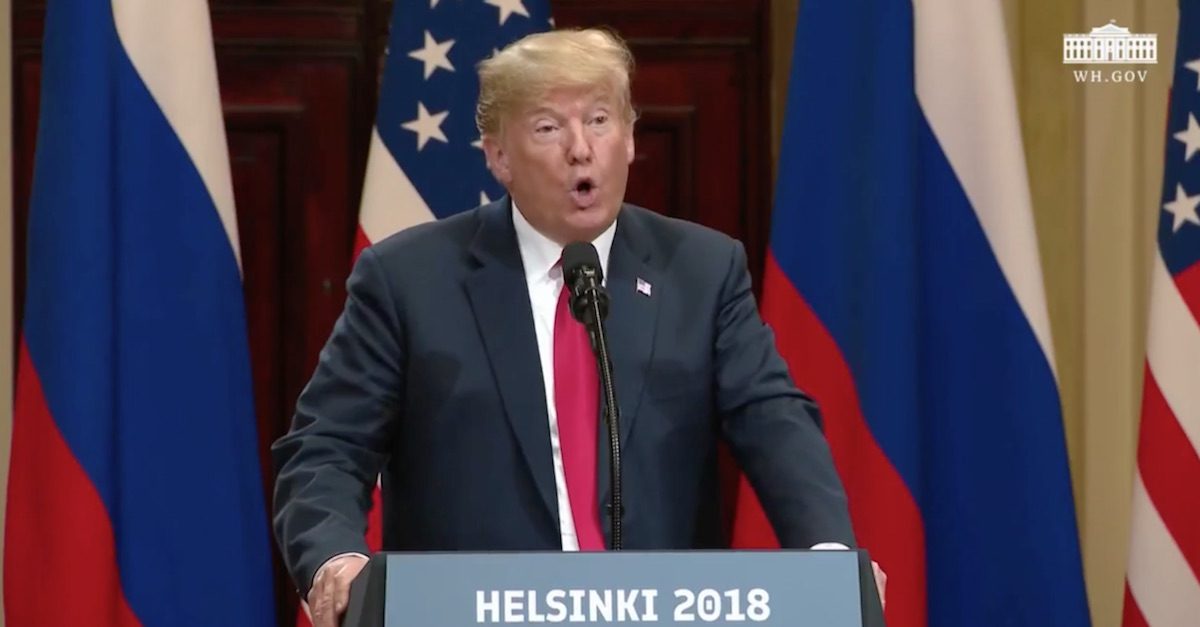 Former CIA director John Brennan was pretty clear that the joint press conference President Donald Trump and Russian President Vladimir Putin just held in Helsinki, Finland was an impeachable offense.
Brennan observed the proceedings and responded by accusing Trump of committing "high crimes and misdemeanors," the same words found in Article II Section 4 of the U.S. Constitution laying out the grounds for impeachment.
"The President, Vice President and all civil Officers of the United States, shall be removed from Office on Impeachment for, and Conviction of, Treason, Bribery, or other high Crimes and Misdemeanors," the Constitution says.
Here's what Brennan had to say:
"Donald Trump's press conference performance in Helsinki rises to & exceeds the threshold of 'high crimes & misdemeanors.' It was nothing short of treasonous. Not only were Trump's comments imbecilic, he is wholly in the pocket of Putin. Republican Patriots: Where are you???" he tweeted.
President Trump has been roundly criticized for declining to directly condemn Putin for Russian interference in the 2016 election.
"I addressed directly with President Putin the issue of Russian interference in our elections," he said. "I felt this was a matter best discussed in person. President Putin may very well want to address it, and very strongly, because he feels very strongly about it, and he has an interesting idea."
"President Trump mentioned the so-called interference of Russia in the American elections. I had to reiterate things I said several times: that the Russian state has never interfered, and is not going to interfere, in internal American affairs, including the election process," Putin denied Russian interference, despite special counsel Robert Mueller's indictment on Friday of 12 Russian military intelligence officers for the hack of the DNC.
If you haven't seen the press conference, have no fear; President Trump's Twitter is here.
[Image via Twitter screengrab]
Have a tip we should know? [email protected]