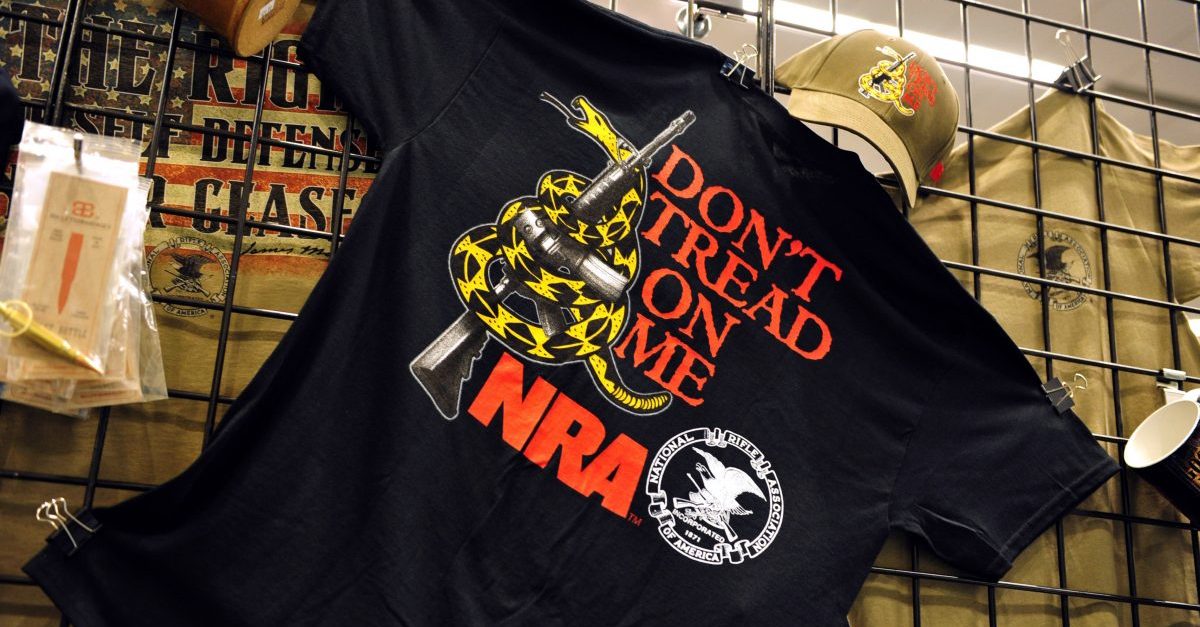 The National Rifle Association (NRA) violated federal law by using a common vendor to illegally coordinate with four Republican Senate candidates, according to a complaint filed by a non-partisan public interest watchdog.
On Monday, the Campaign Legal Center (CLC) submitted a 25-page complaint with the Federal Election Commission (FEC) alleging that that the NRA used a consulting firm to evade federal rules prohibiting coordination between congressional candidates and outside spending groups.
The complaint alleges that GOP consulting firm OnMessage created a shell corporation called Starboard–located at the same address and with essentially the same business model–in order to share and use strategic information between the NRA and the Senate candidacies of Tom Cotton, Cory Gardner,Thom Tillis and Ron Johnson during the 2014 and 2016 election cycles.
According to the complaint:
Beginning in the 2014 election cycle, both the NRA-PVF and the NRA-ILA stopped contracting with OnMessage, and began contracting with Starboard for independent expenditures supporting senatorial candidates—Thom Tillis, Tom Cotton, and Cory Gardner—whose campaign committees were simultaneously paying OnMessage. In the 2016 cycle, both the NRA-PVF and the NRA-ILA paid Starboard for independent expenditures supporting Ron Johnson, whose authorized campaign committee was simultaneously paying OnMessage. In reports to the Commission, the NRA-ILA and NRA-PVF consistently listed Starboard's address as that of OnMessage and the NRA-ILA and NRA-PVF are effectively Starboard's only clients. Evidence shows that Starboard was functionally indistinguishable from OnMessage; in fact, OnMessage has repeatedly taken credit for advertisements that the NRA-PVF and NRA-ILA paid Starboard to produce (and has even won awards for such ads).
In other words, the CLC claims that Starboard and OnMessage are effectively one and the same; and that the NRA's campaign and lobbying arms conspired with a hastily-constructed shell company, Starboard, to access valuable and electorally-sensitive information in order to strategically benefit four GOP Senate campaigns. These allegations, if true, would be in violation of various laws governing the conduct of outside interest and spending groups, the complaint says.
In a press release accompanying Monday's complaint, CLC director of federal reform, Brendan Fischer, said:
There is substantial evidence that the NRA funneled millions through a shell corporation to unlawfully coordinate with candidates it was backing. The NRA using inside information about a candidate's strategy to create 'independent' ads supporting him creates an unfair advantage, and it violates the law. According to the Supreme Court, groups like the NRA can only make unlimited expenditures if they are independent of the candidates they support, and it falls to the FEC to enforce the laws that preserve that independence and prevent corruption.
Law&Crime reached out to the NRA-ILA and NRA-PVF, but no response was forthcoming at the time of publication.
[image via KAREN BLEIER/AFP/Getty Images]
Follow Colin Kalmbacher on Twitter: @colinkalmbacher
Have a tip we should know? [email protected]